It has been a long two years since the Foxes track and field athletes have had a chance to compete, so they are working hard to get back on track for the long-awaited season. When the student-athletes last performed in 2019, two of this year's top female distance runners weren't even in high school yet, and those who are seniors now were inexperienced 10th-graders. Christian Fitch, who now runs for Temple University and medaled in five PIAA and five WPIAL championships, was still around then. So was Grace Sisson, now at Duquesne University, who medaled three times at the PIAA level and five times at WPIALs. In other words, it's a brand new set of circumstances for the program.
Preparing for Outdoors, Inside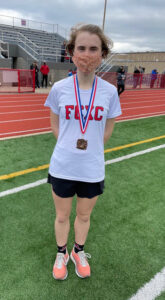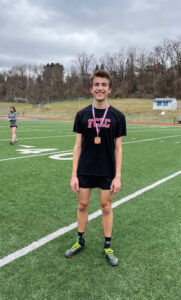 Getting ready for the outdoor track and field season always begins with indoor track. Once again, the athletes' season never occurred due to venues closing down and the requirement for quarantining following travel out of state. But the athletes continued to practice, and the runners started to ramp up their mileage in the snow, rain, and cold weather. The one bright spot was competing at a one-and-done competition, the Polar Bear races, which was held outside. Foxes junior Jack Lorence and freshman Clara Kelley both placed third in their 3,000-meter events. There were no field contests.
Recalling the fall season, Clara did very well in her first year of high school cross country with the varsity team, but Polar Bear was her first high school track race. Her coach, Tom Moul, says, "She ran a very smart race and maintained a consistent pace for the first three-quarters of the race, which put her in position for a strong finish. If she keeps progressing like this, I'm excited to see how far she can go."
Jack adds, "Coach Moul has done a great job with building us up throughout the winter, and although we didn't necessarily compete, it gave us a great opportunity to train well and prepare for outdoor track."


Onward, Outside 
It's hard to preview a season when the coaches have not really seen their athletes for such a long period of time or been able to develop and train them. Yet, Coach Moul says their objectives remain the same.
"Most importantly, we're looking to maximize the number of athletes who can make it to WPIALs and beyond," says the coach. "Our motto is to be a good teammate, work hard, and be coachable. Anyone who can do those three things will be successful in our program."
Some of the athletes who are expected to show leadership and perform at a high level this season are senior Dorian Gomez (jumper), senior Cameron Wilson (sprinter and jumper), junior Caleb Kulikowski (thrower), and senior Shane Funk and Jack Lorence (distance runners).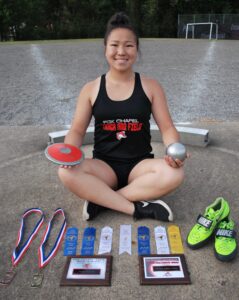 From the girls team, the coaches are expecting a lot from senior Jing McCann (thrower), senior Domenica Delaney (hurdler), junior Carly Barnett (sprints), senior Lauren Himmel (hurdler), and freshmen Clara Kelley and Laura Carter (distance runners).
Field coach Scott Karavlan says he expects two of his top performers from 2019 to succeed again this year. He says, Jing and Caleb did very well at team practices and should be ready for the outdoor season.
"Since the end of my sophomore season, I have improved by 7 feet in discus," says Jing, a Seton Hill recruit. "I've been working with Coach Peifer who has really been helping me with my strength and explosiveness for throwing. Right now, my personal record for discus is 115' 9", which was from the first week of practice this season."
Coach Karavlan also adds some other insights, "Jing has a real shot at setting a new girls record in the shot put and discus."
He continues, "Caleb was a two-way starter on the football team and is a kind young man who is always supportive and helpful to his teammates. If we would have had a season last year, I'm confident Caleb could have broken the freshman/sophomore record."
As for her teammate, Caleb, Jing says, "I think Caleb is going to be a beast this year in shot put."
The teams kick off their season with a scrimmage at Hampton on March 16. Their next meet isn't until April 6 when they face Pine-Richland.