Shortstop Thomas Koch moved to the Fox Chapel Area about a year and a half ago and was all set to put his California-trained skills to work on the baseball diamond. However, the pandemic put an end to the season before it even began. So, this season is very special, not only to Thomas, but to all of his teammates and coaches, who last played together on the Foxes' field in 2019.
"Ever since last season got shut down, everyone has been extremely eager to get back on the field and play," says Thomas, who just turned 19 and is getting his last shot at high school ball. "We lost a lot of crucial players last season, but we have also gained a lot of good ballplayers. I am very confident that we can compete with the best this year. A lot of the underclassmen have really been working hard and have developed really nicely."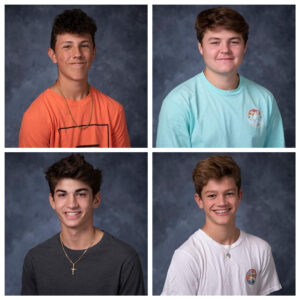 "I'm really excited to get started and I know the kids are too," says Coach Hastings. "We have high expectations for the season, and I think we can be pretty successful. In addition to Thomas, some of our senior leaders who will help us this year through their performance and leadership are seniors Dante DiMatteo (pitcher/outfielder) and Todd Resek (first baseman/designated hitter), and we're also expecting a lot out of juniors Jake Patterson (pitcher/infielder) and Will Burger (outfield/pitcher). It's still early, but there are some very promising underclassmen who we want to get into the lineup as well."
Since January 2021, the team held voluntary indoor practices, and the turnout was about 90%. Besides being very excited to see their teammates and get back to playing ball, there might have been another reason why practices were so appealing. The addition of a new batting technology tool has revolutionized batting practices through its speedy evaluations. Called Swingtracker, the device was developed by a Fox Chapel Area resident.
"The new technology has facilitated our performance tremendously," says Dante, who has improved his barrel speed from 61 mph to 73 mph by using Swingtracker. "It tells us our swing metrics, like maximum speed, attack angle, and maximum acceleration. Along with the swing metrics, it shows us our plane to the ball, and this is my favorite part of the app – it shows us if we're late, early, or on time when hitting the ball."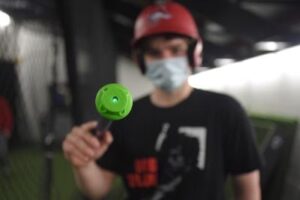 Thomas explains his experiences with Swingtracker. "The hitting tech has been really helpful to us when hitting off the machine. It shows us all of that stuff is very beneficial for our development. For example, when I'm hitting off the machine and I'm not getting under the ball enough, the technology shows me my launch angle and also if my launch angle was in the low 20s. I'm trying to get that consistently in the low 30s so I can drive the ball more."
Todd says using Swingtracker has been a great asset because it's user-friendly and the results are instantaneous.
"Being able to make sudden adjustments is what took my swing to the next level," says Todd. "The human eye can only see so much, so everything I miss on video I can identify using the program. This technology has led me to be a more consistent hitter as I can re-create my swing every at-bat.
"With three out of our four seniors pitching, they have seen more individual help from coaches to make sure they can bring their A-game on the mound. All of our shortcomings so far have been backed up with hard work and effort. Practicing as much as we do, we will come out of the gates with a bang and nothing less than that. We have been working nonstop since January to prove to everyone that we are the team to beat this year."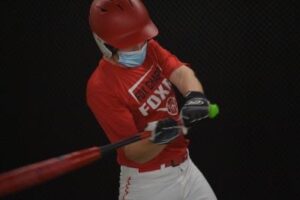 Besides improved batting power, Coach Hastings says other team strengths this season are speed and the outfield.
"Our outfield should be very strong with Dante and Will, and junior Vincent Reiber," says the coach. "They all have excellent speed and above-average arms, which should be a strength for us defensively, and they all can run balls down. Also, Jake could be the hardest worker we have and is a very good leader for us. He'll be a starting infielder and pitcher who will bat in the middle of the lineup.
"Overall, our entire team has gotten stronger over the course of the school year. That's a testament to the work our kids have put in since July when they started working with Coach (Brandon) Peifer in the weight room. We have a really dedicated group of players."
Dante adds, "This will be an interesting year. The great thing about this team is that we know how to work through adversity. I have never been on a baseball team for the 13 years that I have played that has more team chemistry."
The Foxes compete in WPIAL Class 5A and will face Section 2 competitors Armstrong, Mars, Hampton, Penn Hills, Plum, and Woodland Hills.