Tennis coach Alex Slezak has some idea of who will be in his 2021 starting singles' and doubles' lineups, but with tryouts just completed, it's really too early to make final decisions. But what did impress him as he watched 24 hopefuls put their best efforts forth to make the team, was how hungry they are to improve. Their coachability will be important as seven out of the 12 varsity players are either freshmen or sophomores and weren't even around the last time the Foxes had a complete season in 2019.
One of the biggest challenges now, says Coach Slezak, is to create the right culture for success. He explains, "It's always a challenge to take a group of individuals, in what is really an individual sport, and get them to be a true team. As a coach, I try to get them to realize that, for 12 weeks, they are playing for Fox Chapel Area and not their own individual results."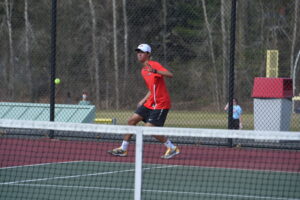 The team-first belief has led to great results for the boys, who won four straight section and WPIAL championships from 2015-2019 and are, technically, still the reigning champions.
In 2021, the Foxes will start out with a few decisions already made, but there will be changes and flexibility. Sophomore Cooper Friday, who was only an eighth-grader when the team last was on the court in 2019, will be the number one singles player. Senior Zain Hassan will be the number two player in the singles lineup. After that, the field is open to a number of possibilities that the coach will consider as the season gets going.
Another key to accomplishing the team's goals is strong leadership to acclimate the players who are new to the team.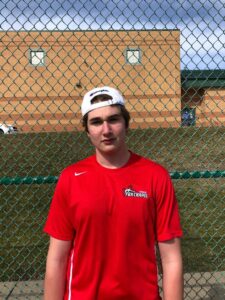 "Zain and (senior) Will Ernharth were around when we won championships and they know the culture that is needed," says Coach Slezak. "They will play a big role in mentoring the younger players. Their contributions as leaders could have a bigger impact than any individual successes on the court."
There are several freshmen and sophomores whom Coach Slezak also believes have the potential to have an immediate impact, including freshmen Will Siegel, Travis Malone, and Ben Hallman. Coach Slezak says he would also add Cooper to that list and fellow sophomores Ananth Kashyap, Jack Delaney, and Topher Ernharth. Additionally, the coach will be looking for varsity contributions from seniors Nate Fetting and Nikhil Pattada.
Coach Slezak concludes, "The pandemic has been hard on everyone, and my hope is that the season is positive in more ways than just winning matches. Tennis is much more than that. The greatest thing in life is to be able to take to the tennis court and win. The second greatest thing is to take to the tennis court and lose. After last year, we all appreciate just the opportunity to compete."
The Foxes kick off their season with a scrimmage, and then, on March 17, will compete against Upper St. Clair. On March 19, they will face Central Catholic. Both competitions are at home.