As Carlo Prati watched many of his players practice during the summer months, it gave the Foxes' new girls soccer coach a lot of time to think about how he wants to tinker with the lineup and develop his game plans. One of his observations, based on his experience over the past four years as the team's assistant coach, was something he knew for sure.
"We need to be more attack-minded," the coach states. "I think we have a really good group of girls, and if they put in the work and play with confidence, we have the potential to be very dangerous. They are eager to learn and get better, so that's always a plus for a coach."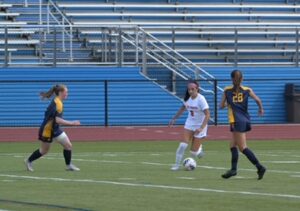 The Foxes come into the new season with 10 seniors and eight returning starters. Two seniors have already made verbal commitments to play in college. All-WPIAL midfielder/forward Makayla Mulholland, one of the team's top scorers in 2021, will play for Appalachian State University, and goalie Molly McNaughton, who had eight shutouts last season, has accepted an offer from California University of Pennsylvania (now PennWest California).
The Foxes will also be led by all-section juniors Anna Troutman (defense) and Kate Friday (midfield). Other key players from last year's team include junior midfielder Sydney Schutzman, who shared top honors last season as a high scorer, along with Makayla and Kate, and senior Lindsay Scheffler (forward/midfield).
Sophomores Maya DiPasquale (defense), Madeline Grimsley (midfield), Alyssa Quackenbush (midfield/forward), and Paige Solomon (midfielder) also have returned, and coach Prati expects to see big things from them and returning seniors Lilygrace Goodworth (forward/midfield), Mia Fortun (defender), and Mia Nury (midfield). The team will also depend on leadership from seniors Lily Claire Adams, Delaney Asbury, Zoe Fitzsimmons, and Molly Piper on and off the field.
A big change, however, is that the Foxes are in a new section, WPIAL Class 4A, Section 1. That grouping includes North Allegheny, Seneca Valley, Butler, and Pine-Richland, all tough teams that usually go deep into the playoffs. But, according to Prati, "We also can't count out the other teams because they all bring different challenges. We will be tested but are looking forward to the challenge."
Expect Big Games, Big Challenges
"In my opinion, we will be playing in the toughest section in the WPIAL," says coach Prati. "We have to be ready to play every night; there are no off days in this section. Any team can beat you on any given night if you take anyone lightly. But it's always great to play the best competition to see where you stack up, and I also think it gets you more prepared for the playoffs."
Kate adds, "The new section will be a great challenge for our team. The teams we will play consist of a well-rounded group of athletes. I think we need to continue our success in playoffs this year by continuing to have positive leadership. I'm excited for the new players this year because I think they can play a great role in our offense side of play. We need to have patience and determination, knowing that this year will be tougher, but overall, I think we are ready to continue success throughout the upcoming season, and I'm very excited to get back on the field and play the game."
High Expectations
A lot of this year's optimism is a carryover from last year's playoffs, when the team exhibited some of its best and most exciting games all season. In the first round of the WPIALs, the Foxes won in double overtime in a shootout against Bethel Park, and then went on to play top-ranked North Allegheny in the quarterfinals, where they upset them, 1-0, again in an overtime shootout. Their season ended with a 1-0 loss to Seneca Valley.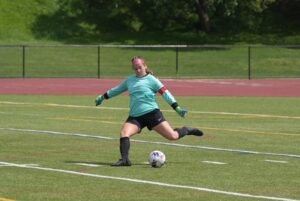 In most cases, success does not come easily, and Prati knows that, but he also knows the value of a defeat. He says, "It was a tough loss, but we can build off of that this year."
"Our WPIAL playoff run was definitely one to remember last season," says Makayla, who had five goals last season and two assists. "Going into playoffs, nobody thought we would get as far as we did. After we upset North Allegheny, people really started to take notice of our program. In order for us to win WPIALs, we need to maintain our strong defensive stance, but we also need to score more goals. Everyone has been working hard this offseason, so we should have a smooth transition getting back into the season. Also, our defense and midfield are used to playing tough opponents, which will definitely help us transition into our new section."
Molly knows from experience that their mental game is just as important. She says when she was younger, she would sometimes identify herself by her mistakes, not by her assets, something she has worked on as she has matured as a person and player.
"I realize that I just need to identify the mistake I made and fix it for the next time, and I would say I have really improved in being very calm and collected on the field," she says. "Having a calm goalie on any team definitely helps all of the players remain calm as well."
With 11 road games this year, and a fairly young roster, the players will need the intangibles of patience, composure, and confidence if they are to achieve the expectations they have set for themselves. Those abilities will be needed sooner, rather than later, because the team's first section game is away versus Seneca Valley.
This time, however, the Lady Foxes are determined to have a much better outcome than when they faced them the last time in the playoffs.