Getting the right combination of players and matching them with positions that bring out the best in them isn't an easy task, especially when there is a plethora of talent. But, for Fox Chapel Area boys soccer coach Erik Ingram, that situation is one he faces every season – and it's a good one – due to having such great talent and a thriving local youth program.
This season, there are seven returning starters, a pool of players who got good minutes last year, and some new faces who show potential. Overall, the team has great speed, tremendous technical skills, and the competitiveness to achieve its goals, starting with wanting to win the WPIAL Class 4A Section 1 championship.
"It is a very experienced group with some talented additions to varsity, so we should do well," says coach Ingram.
Returners include senior forward and 2021 All-WPIAL pick George Tabor, senior forward John Paul Brach, and sophomore Carson Krushansky. George scored 13 goals last year and led in assists.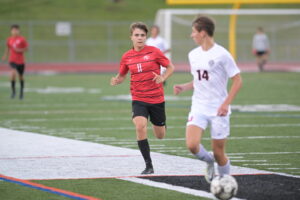 "I really think this team has a shot at winning the section this year," George says. "We have what we need; we just have to put it all together."
Look for sophomore midfielder Pablo Linzoain to hold down the midfield again, along with returner Colin Lazzara, a junior. All-WPIAL sweeper, senior Colin Westerberg, anchors the defense, with juniors Saidi Issa and goalie Connor Scanlon.
Other important contributions are expected from seniors Zachary Johnston and Sava Berger; juniors Owen Levy, Michael Shin, and Dylan Work; and sophomores Milo Chiu and Daichi Matsuba. As the season progresses and other players continue to gain experience, there will be others who earn time on the field. Additional senior players are Enzo DeCecco, Jordan Howe, Stephen Santilli, and Jackson Stevens.
Do They Have What It Takes?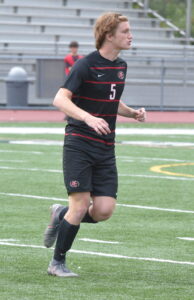 John Paul got an idea of the Foxes' fortitude right from the beginning at the early season scrimmage against Upper St. Clair, and then again at their first regular season nonconference game versus Canon-McMillan.
"The Canon-McMillan game showed our grit and mental strength to be able to turn around the game at halftime," he says. "We were down 1-0, and then turned it around to win 2-1 in overtime."
Prior to that, the Foxes faced Upper St. Clair, which is always a test, even when it's just a scrimmage.
John Paul adds, "Coming up against a school like Upper St. Clair, while missing some of our guys, and then being able to hold our own, and even control the game, gives us something to be excited about for the rest of the season."
Colin says, "We have tons of speed with George and John Paul, and skill. We just need to keep our focus throughout the season. We fell off at the start of the second half of last season, but eventually, we came back."
Most of all, the team and coaches are determined to make this season the one in which they get over the hump and win the WPIAL championship. They've come close, with five runner-up titles, but haven't won it all since 1995.
Before that can happen, however, the Foxes face one of the toughest sections in the WPIAL, with the likes of Butler, Central Catholic, North Allegheny, North Hills, Pine-Richland and Shaler Area, as well as Seneca Valley, last year's WPIAL champions.