Foxes head football coach Tom Loughran has never been one to look in the rearview mirror unless it involves a great teaching opportunity. He's all about the current season and taking things play by play, and game by game. But coming off last season, when the Foxes advanced to the WPIAL Class 5A postseason, and then won their first playoff game in 24 years, the players and coaching staff want to see that momentum carry over to 2022.
They will have a chance to do that at the season opener August 26, when the Foxes face Peters Township at home. The Indians also advanced to the second round of the playoffs last season.
Playing Peters Township has always brought learning experiences for Fox Chapel Area, but the seniors especially are going into this matchup with more confidence and believing there is no reason why they cannot win.
Since June, the team has been laying the groundwork for playing in Section 3 and a conference that is at least one of the toughest, if not the toughest, in the WPIAL.
"We had a good summer workout, and the guys have been very responsive to the coaching they are receiving," coach Loughran says. "We just need to maintain our mental and physical toughness as the season progresses."
One of the most aggressive, hard-hitting members of the defense and offense is senior Jack Visco, a Big 56 honorable mention last season. He is the top returning tackler, racking up 73 last year, and he aspires to reach 90 to 100 this season.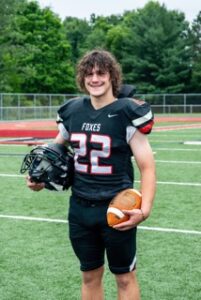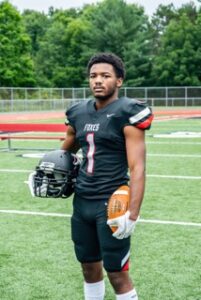 "I think we have a really talented group," he says. "As long as we play together as a team, recognize Peters' sets, and come in aggressive – and stay that way the entire game – I see no problem in beating them."
Fellow senior Christian Gaston senses something different about this team this year, and it's not necessarily about the Xs and Os.
"I think we're more connected as a team, more like brothers than maybe in the past," says Christian, a 5'9", 180-lb. defensive specialist. His power and intense physicality on the field contrast the way he speaks about his kinship with his team.
"We have a lot of heart, and, somehow, we all have connections to each other," according to Christian, who says last year's playoff win serves as the minimum standard for expected performance this season. "We all came together at that game, and that win was definitely a big game and a big deal for us."
In addition to Jack and Christian, 16 other seniors will contribute this season, and almost all of them play on both sides of the ball: Aiden Aluise, Sean Feczko, William Fera, Matthew Fugh, Kenneth Kidd, Isaak Kirkland, Charles Lusk, Ramadani Mada, Roman Mason, Landyn Moore, Andrew Olando, Victor River, Zachary Sullivan, Peter Tran, and Alex Tsai.
Juniors Mason Miles and Tro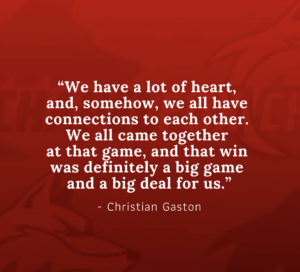 y Susnak, and sophomores Kris Bandurski, D'angelo Hamilton, and Tye Smith, also all have worked their way up to starting positions on offense and/or defense.
When combining this year's freshman class with last year's – each group has in excess of 20 players – and then adding the other returning players, coach Loughran is finally getting the depth he's longed for since he first came to the program nine years ago.
"People talk about depth and us doing well in the first half and then falling back after halftime," says Jack. "I know having depth adds value on the field, but, in my opinion, I think a lot of it comes down to conditioning. We have worked on that a lot this year, and our coaches, especially our offensive line coach (Adam Bisnowaty), have really been a big help in getting us in game shape."
In the weight room, the players also are doing more explosive lifting, as opposed to only lifting heavy weights to simply gain more muscle mass. The goal is to develop the explosive power required to come off the ball quickly.
Also new to the top squad this year is junior Ben Demotte, who takes over as quarterback this season after having a solid junior varsity career. Loughran describes him as having a very good performance at the Foxes scrimmage versus Hempfield, and as "very athletic with a strong arm, great football IQ, and good anticipation."
Sophomore Matthew Begg has earned the backup job, and freshmen Joseph Geller, Nathan Johnson, and Max Melocchi round out the Foxes' quarterback room.
The running game will be powerful, with Roman doing double duty this year, as opposed to past years when he was primarily on defense. Matthew is just as strong, and both players are good receivers out of the backfield. Mason will be in the mix at times. Receivers are Christian and Landyn, but also expect to see junior Rayquan Smith and sophomore Tyrese Samuels, too.
Peter and Alex, as well as junior Harlan Sheehan, will be kicking for the Foxes.
With four big nonconference games to start off the season – Peters, Plum, Norwin, and Upper St. Clair – the Foxes will need to be at the top of their game each week. After that, they go into conference play, where it doesn't get any easier. Beginning with a home game versus Pine-Richland on September 23, they go on to play North Hills, Penn Hills, and Shaler Area, and nonconference opponents Woodland Hills and Shaler Area.
"We enter every game believing it is winnable," coach Loughran says. "If we prepare properly and utilize our game plan thoughtfully, that gives us an opportunity to win."