Roman Mason seems to be everywhere these days and, no matter where he is, the Foxes' senior football player and leader is making a name for himself.
During the summer, Roman spent most mornings at the high school practicing with his teammates for the Foxes' upcoming football season. Another day, he traded his workout clothes for a stylish suit to go Downtown to meet with Allegheny County Executive Rich Fitzgerald to discuss a variety of topics that could make his community better.
Roman can also be found at Sharpsburg Borough Council meetings, where he serves as its first African-American junior councilman. He was sworn in at the June meeting.
Although Roman is a non-voting member of council, it has not deterred him from jumping right in and voicing his ideas. One community project he is involved with is the borough's efforts to refurbish Kennedy Park. One of his ideas is to build a community skate park, and another is to light the park's basketball court and ball fields after dusk.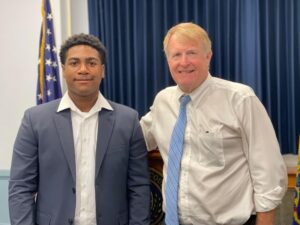 His reasoning for the after-hours lighting is, "A lot of our (Fox Chapel Area) best athletes come from Sharpsburg, and I think it starts at Kennedy Park."
Regarding the skate park, Roman says "the closest skate park is at North Park, and that's too far away. Sharpsburg is the perfect spot for it."
Roman's interest in government stems from his desire to make his school and community better.
"I want to learn about what's going on in our community and just have a voice in it because I live here," he says. "I think it's interesting how there are lawmakers out there who are changing things in our community. That could be me someday; I'll be the first one to speak up and start the change that will make things better."
His unabashed ambition and drive aren't anything new, though. Roman says he is a "people pleaser, and a people person," and, since elementary school, has had the nickname "The Mayor" due to his outgoing nature and wide circle of friends of all ages and walks of life.
"A lot of my teachers would tell me that I was born this way, and I should use my leadership skills in a good manner," says Roman, whose school activities include being president of the Fox Chapel Area High School Student Government and member of the Black Student Union, Best Buddies, and Political Discourse Club. "I think you can't be afraid to speak up and voice your opinion, and I think my leadership style is probably as a well-spoken leader."
Roman uses that same confidence when he plays football and lacrosse, although football is his passion, and he hopes to play in college. He's already drawn interest from recruiters. Roman has lettered in both football and lacrosse since he was a freshman.
The 17-year-old started last year as a defensive end after earning significant minutes as a sophomore. He is also rostered as a running back, something head football coach Tom Loughran wants to see more of this season.
"Roman has a big, muscular body and good legs, so he is not easily tackled, and he's a very good receiver out of the backfield," says coach Loughran. "We might even try him out as a wildcat quarterback."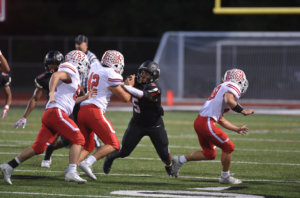 Last year, Roman's impact was primarily on defense because former running backs Zidane Thomas and Maurice Sampson-Schulter were very successful in that position. Nevertheless, his defensive stats were outstanding. Roman started in all 12 games and had 53 tackles – 38 of them unassisted – and two quarterback hurries that tied for the team lead. In what might have been his most impressive showing to date, Roman plowed through Upper St. Clair's offense in the WPIAL Class 5A playoffs and posted six tackles, one sack, and three tackles for a loss. His efforts were key in the Foxes' upset over Upper St. Clair, which was the first time in 24 years that the program won a playoff game.
"Roman is a very likable, great kid and a hard worker," Loughran says. "He has been a positive leader for us and is very vocal. He is very knowledgeable about what we do, and we can tell him something once, and he can immediately apply it to the situation."
"I like defensive end because of the way I'm able to process and break down offenses," says 6'0, 210-pound Roman. "Defense comes as second nature to me, but when I'm playing running back, my vision is probably my best strength because I see the holes really well."
Knowing the expanded role the coaching staff expects from him on both sides of the ball this season, Roman's goal in the offseason was to put emphasis on his lateral quickness and footwork.
He also continued his workouts with his personal trainer, whose clients include Aaron Donald, the Penn Hills native who plays for the Los Angeles Rams, and other NFL players.
Even in the offseason, Mason oozes school pride. During the 2021-2022 boys basketball season when the Foxes won the WPIAL 6A championship for the first time since 1977 and advanced to the PIAA semifinals, he was one of the most vocal leaders in the student section. Whatever it took, from ordering T-shirts for theme nights to leading the student section in chants to taking photographs for the players to post on their social media sites, Roman stepped in for the good of the team.
Over four years, Roman has learned a lot from athletics about teamwork, determination, and personal accountability. He has transferred those lessons to his daily life and, as a leader on the football team, he tries to impart those lessons to some of the younger players.
"Something I learned from football is that you can't win every game or everything in life," he says. "Sometimes you get knocked out, and you just have to pick yourself back up."
That's true, but right now, Mason seems to be having more wins in life than defeats.