Sydney Schutzman has played high school lacrosse for just a little over two years, yet in that short amount of time, she has done what few other Foxes players have accomplished. At the team's first game of the 2022-2023 season, Sydney scored her 100th goal. It was only one of six shots she put in the net that day. Her offensive prowess has continued as the season has progressed. 
"I did not realize I had hit 100 when I scored," says Sydney, who figured out it was her fourth goal that put her there. "I ended last season with 96, so I knew I would get it at some point this year, but while I was playing, I lost track. When I first realized after the game that I had reached 100, I was pretty excited, but it didn't really hit until I got home, and all of my teammates were texting and congratulating me."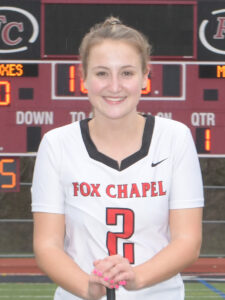 Getting to that mark had been a goal of hers, but she didn't realize it was achievable until she had reached 80 goals during her sophomore year. At that point, she says, "It was way more achievable than I originally imagined."
Sydney previously played ice hockey but gave it up in sixth grade. She was looking for something to replace it while still playing soccer, a game she continues to play. She is currently a star midfielder on the Foxes girls team, the same position she plays in lacrosse. 
"A lot of people told me that lacrosse was a perfect mix of soccer and hockey, so I tried it out and ended up sticking with it," says the junior. "Through the roughness of hockey, I learned a level of physicality that I use in both lacrosse and soccer." 
She started playing lacrosse when she attended a learn-to-play lesson and then joined club lacrosse that same year. She now plays for the elite Pittsburgh Premiere Lacrosse Club. She credits her success in both sports to her ability to learn from others and work with the people around her.
"Being able to work well with my teammates and learn as much as I can from my coaches ultimately has led me to success," Sydney says. "I wouldn't be anywhere without them."
Nor would her lacrosse team. Sydney is very optimistic about what they can do after finishing last year as the WPIAL Class 3A runner-up.
"Our team this year is looking very strong," says Sydney. "I really believe we can win it all this year and go further than we have in my previous years of high school. Our team strength is in our mentality, and I feel like there's a new spirit within all of us. Each one of us believes we can win it all, and we already work so well together in all parts of the field."