The Fox Chapel Area softball team spent February training outside in the snow toughening up for a new season, having lost seven starters from last year. It's a whole new team this year, and a young one, and there is a lot of competition for starting positions. For many players, vying for those spots started shortly after the 2022 season ended.
"I am very proud of how hard the players have worked this offseason," says fourth-year head coach Dr. Chris Olbrich. "This was the most participation we have had in fall ball and winter workouts. They have pushed themselves, and as a team, we are farther along in skills and abilities than any team I have coached here."
Poor weather has gotten the season off to a slow start, but the two games the team did get in so far portrayed tales of two different teams. In the first one against Hampton, the team lost 10-0. But at their next game against Butler, the players demonstrated poise and resilience after they led most of the game, fell behind, and then rallied to pull off an 8-7 win.
"It just will depend upon how the players adjust to the pitching and speed of the game at the varsity level," says the coach, who led last year's team to the WPIAL Class 5A Section 3 title. "We have a versatile team, and they understand that we lost seven seniors, and that this is an opportunity to seize a starting position or as a valuable backup on varsity. I think we will catch more than a few teams by surprise because of the turnover from last year."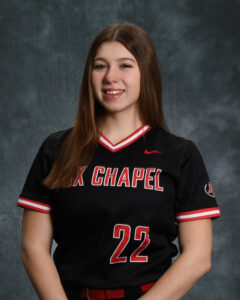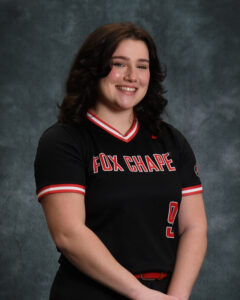 Leading the effort to achieve those goals are starters seniors Hunter Taylor, who will pitch and play shortstop; Alina Stiger, who also will play shortstop; and junior Caitie Troutman, known as a solid hitter and a natural at second base. Additionally, junior Mia Dunleavy is moving from the outfield to starting at third base and is expected to contribute offensively, too. And senior leader Stephanie Lee will get her first opportunity to start at first base.
"Steph has worked hard for three years to get better and will get her chance to shine this year," coach Olbrich says. "Hunter is a four-year starter and has been a rock in the infield. We are still looking for who will play shortstop, and most likely it will be Alina. But she is such a great outfielder that we need to look at what lineup will give us the best chance to support our pitchers."
"To prepare for the season on the mound, I have returned to pitching practices with my pitching coach of eight years," Hunter says. "I also take time out of the majority of my practices during the week to throw a bit with my catchers."
Hunter cites her teammate Alina as being a big influence in her development as a player.
"Alina has been one of the people who has worked hard with me over the past four years to keep me improving, especially her being a catcher for me for our first three years," says Hunter, who plans on using her favorite and most reliable pitch, the two-seam fastball, to strike out opponents this season.
Alina says her position in the outfield isn't always about how fast she can run a ball down or how incredible a diving play may be.
"I believe the most important quality of being an outfielder is confidence and the 'want to make a play' attitude," she says. "Confidence is the difference between a catch and getting the ball off a bounce. You must have confidence in yourself for every play you make, or else you will constantly second guess your throw, your catch, and your attempt on the play."
While Alina is also a standout in the outfield, she's also been promoted to leadoff hitter. She knocked her first out-of-the-park home run at the first scrimmage of the year.
Other players to watch are sophomore utility players Adina Rosen at outfield or first base and infielder Melisa Pietz, praised by her coach as the most improved player since last year.
"Overall, we have an excellent outfield and basically have four players for three spots, so that is a great problem to have. Alina, Adina, sophomore Brianna Hnatow, and freshman Summer Burkhart all have great speed and strong arms, and the ability to track balls."
Other players who should make contributions are sophomore catcher Maria Stiger and freshmen Ava Walmsley (catcher) and Bailey Mack (pitcher).
The exact starting lineup is still fluid and should be firmed up within the next few weeks.
Hunter adds, "I would say a good number of girls on the team have stepped up and put in a lot of work over the past year to fill in those open spots. I think that a lot of them realize that they have an opportunity to be playing varsity-level softball."
Her coach adds, "The team understands that our goals this year are team defense and putting the ball in play. If we can do that, good things will happen."
The Foxes have moved to WPIAL Class 5A Section 1 this year and will face teams from North Hills, Oakland Catholic, Penn Hills, Plum, and Shaler.