Last season, the underrated Foxes boys tennis team surprised quite a few people when they earned the program's fifth WPIAL Class 3A title in six years. Head coach Alex Slezak says they were able to achieve their goal because of a team-first philosophy. With his entire lineup of starters back this season, that culture continues to drive the players.
"We won because we were able to become a team, lift one another up versus put one another down, and they were able to make sacrifices for something bigger than themselves individually," says the coach.
The Foxes lineup remains fluid throughout the season, but they started off with the singles lineup repeating from last year. Will Siegel remains the number one singles player, followed by Cooper Friday, and then Ananth Kashyap. Coming back as the top doubles duo are Mason Friday and Travis Malone, with strong support from capable partners Jack Delaney and Ben Hallman.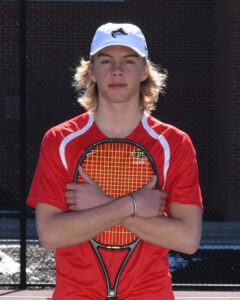 "All starting seven are back this season, which is exciting," says Cooper, who, along with his brother Mason, just won their fourth under-18 national platform tennis title. "We all are looking to work off some rust early in the season and be at our best come playoffs. One player (who has come back) far and beyond as our most improved player is Ananth. He started the season strong with a big win against the North Allegheny third singles player; he is great under pressure. Our team also often relies on our doubles teams to win, too."
As the season progresses, Coach Slezak takes nothing for granted and never makes predictions. He explains, "All I know is that in tennis, winning comes from skills, and skills come from practice and knowledge. "We work every day, whether it be a match or practice, to improve our skills. We improve physical skills, but also, just as important, are the mental and emotional skills used during competition."
What he does know is that he is very impressed with all of his players, including those who are not in the starting lineup.
"We are molding into a team, which is difficult in an individual sport like tennis," says coach Slezak. "Everyone plays a critical role."
Members of the 2022-2023 team are seniors Jack Delaney, Topher Ernharth, Cooper Friday, Arjun Golla, Ananth Kashyap, and Owen Patel. Juniors include Jeremiah Cessna, Nicky Cusano, Jacob Friedberg, Ben Hallman, Travis Malone, and Will Siegel. The sophomore class consists of Murugan Ayyanar, Tommaso Fontecchio, Mason Friday, Milan Golla, Caden Goodworth, Charlie Larsen, Nathan Mackey, Nick Patel, Ezra Shensa, and Henry Stallings. The team's freshmen are Alejandro "Alex" Betancourt-Jones and Rocco Didomenico.