Volleyball isn't as popular as some other sports, and that really bothers Foxes' coach Phil O'Keeffe. In his experience with the game, the former pro player believes that once someone tries it, it's a game with which they generally fall in love. He has said that for some 40-plus years now, ever since he developed his own passion for the sport.
This season, however, the coach is pleased that more students have shown an interest in joining the Foxes' team, including some athletes who play other sports.
"Unlike other sports, it's one that you have to get hooked on because it's not a super popular mainstream sport," the coach says. "But when kids do try it, they say, 'Wait, this isn't so easy. I should be able to do this,' and then they want to get better at it."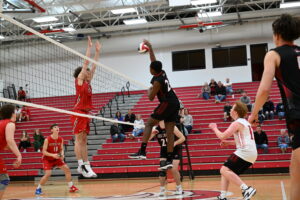 The Foxes have a good mix of players for the spring 2023 season, from first-time players to veterans who have been with the team for four years. That range of skill sets is fine with the coach, especially because he enjoys teaching the game to players who have the desire to play and have fun doing it.
The team looks to build upon its strengths – more depth and people who can play multiple positions – and is hoping for a short learning curve from players who are new to the game. Still early in the season, coach O'Keeffe is rolling out different lineups to see which combinations work the best given the new roster.
Coach O'Keeffe is looking for big contributions and leadership from returners juniors Solomon Amemasor, Ethan Shelestak, Andrew Shepard, Braden Slater, and Abe White. He also has a big freshman class, which he credits as being one of the stronger groups he's coached, and several athletes from other sports who joined the team this season.
Everyone on the team is counting on some of those new players to learn very quickly, as the Foxes are in the toughest section in the state.
"All of them will play crucial roles," says coach O'Keeffe, who was honored last season by  past and current players for his 20th year with the program. "The progress of new players such as Rowan Gladwin, Jordan Howe, and Jack Lynch also will be key to our success. They will have their hands full getting up to speed, but they all have big potential."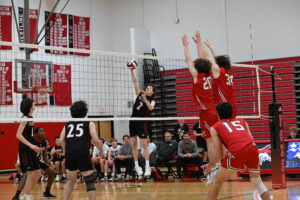 Soccer player Rowan is new to volleyball this season. The 5'11" junior wanted to reach out beyond the game he's played since he was 8 years old, so he decided to give volleyball a shot.
"This past year, I came to the realization that I have not played any other sports competitively and decided I should give it a try," says Rowan, who plays outside hitter. "My brother then convinced me to join the volleyball team, as he played all four years of his high school career. I think I can bring a high level of athleticism and hustle. I am looking to make up ground with the help of my veteran teammates and coaches."
Ethan, a third-year player who has moved from libero to outside hitter this season, has high expectations for his new and younger teammates. He explains, "There are a lot of players who are new to volleyball, so we want to help them out as much as possible and encourage them on the court. Even if they are not in the game, cheering on the team is really important to us because the energy from the bench helps the players on the court feel a lot more confident."
"I still feel we are a player or two away from being very competitive," says coach O'Keeffe, who still is regrouping from when the pandemic slowed down recruiting.
"Hopefully, with Greg Laun now coaching volleyball at Dorseyville Middle School, our numbers will start to improve," the coach says. "He's doing a fantastic job."
It has been a while since the Foxes have been serious contenders in the WPIAL and PIAA playoffs, but Coach O'Keeffe is enthusiastic about the possibilities. "I am hopeful this nucleus of young players will put us back in the mix."