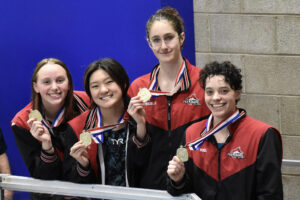 The Foxes swimming and diving teams ended another successful season at the recent 2023 Class 3A PIAA Swimming and Diving Championships by bringing home a number of medals and setting four school records.
Among the Fox Chapel Area girls who graced the individual winner's podium was All-American senior Sophie Shao, who ended her high school career as the most decorated swimmer in Fox Chapel Area history. She won her second consecutive PIAA silver medal in the 100 yard butterfly, which, between her individual and relay performances, makes a total of 12 state medals over four years. Among those dozen awards are two golds as the best 100 butterfly racer in Pennsylvania. Sophie also is a four-time WPIAL champion and holds the record in the 100 butterfly. In total, the Brown University recruit has 28 cumulative medals from states and WPIALs as a reward for all of the hard work she has put in during her high school career.
Another of the team's leaders over the past four years is Talia Bugel, who won a fourth state medal in the 100 backstroke with her eighth-place finish. She holds the school record in that race. Also, sophomore rising star Sarah Pasquella won her first individual PIAA medal with her seventh-place time in the 100 yard breaststroke.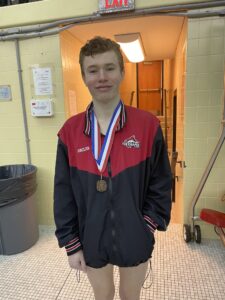 For the boys, sophomore diver Jackson Hagler significantly improved his 19th-place finish as a freshman with an eighth-place medal this year.
"Jackson's biggest advantage was that he was very consistent on all of his dives," coach Vernon Yenick says. "He did them precisely the way he needed to get on the podium, and that was my favorite accomplishment that he made during the contest."
Relays Very Special, Especially for Seniors
In addition to Sophie, Talia, and Sarah, senior teammate Payton O'Toole was a crucial member of the 400 yard freestyle and 200 yard medley relay teams. The 400 free relay won the silver medal at states and set a school record with a time of 3:28.05. The quartet also brought home bronze hardware in the 200 yard medley relay. Each racer in that event was designated as an all-American.
The group accomplishments were especially meaningful to the seniors.
Ashland University-bound Payton said, "Honestly, we all just gave it everything we had. I was so excited when Sophie touched the wall and we got second (400 free relay). Being a part of this team is so special, and I was so happy to have been able to witness it with those girls!"
Coach Dan Taylor added, "Payton has been a key member of the 400 free relay and was rock solid at WPIALs. She dropped over a second in her relay split from prelims to finals at the state meet to help secure a silver medal."
He also had high praise for Sarah. "She took a quantum leap forward this year at the state meet. Last year, she only qualified in the 100 breast and placed 24th. She will have a solid chance at a state title over the next two years."
Sophie added, "I was very lucky to even be at the meet because I got sick a few days before and had to stay home for a couple days, but it ended in the best way possible. I feel very grateful I got the opportunity to swim on this team and am very happy to see how much this team has grown."
Key Boys Racers Shine
Coach Taylor was especially enthusiastic about the efforts of sophomores Christian Dantey and Owen Howell.
"Christian and Owen had a fantastic state meet," says the coach of his sophomores. "They both qualified for finals in both of their individual events and broke three school records in the process. Christian's 200-free time was the sixth fastest at the state meet and Owen's 200 IM time was the seventh fastest in the state. (Although they did not make the final heat after preliminaries, both swimmers beat the times of racers who were in the finals.) I couldn't be prouder of the work these boys put in during the season and the results they achieved at the end of the season. Out of the swimmers who posted a faster time than Owen in the 200 IM, five were seniors and one was a junior. There were only two sophomores faster than Christian in the 200 free. The future is very promising for both boys."
Christian broke the school record twice this year in the 200 yard freestyle (1:40.52), and Owen broke Christian's record from WPIALs in the 100 yard breaststroke with a time of 57.32.
Christian explains his strategy. "During the first 100 yards (of the 200 free), it kind of felt the same as my WPIAL swim. I wasn't necessarily coming out fast, but it was just enough to come back and have a strong last 100, which did feel different from my WPIAL swim. I felt a lot stronger going into the third 50 knowing that it'd have to be faster than my prelim split."
Now, he is hungry to improve, saying, "Swimming in the A finals and placing high is definitely a goal of mine next year. But you can't count out all the fast swimmers in that event that are in my class. I'll be racing them for the next two years, and I'm excited to see how much we progress together."
Looking Ahead
The water is barely dry from the swimmers' suits, yet as coach Taylor enjoys this year's achievements alongside his athletes, like any good coach, he's already looking ahead and is encouraged by what he sees.
"The future of Fox Chapel Area swimming is bright," he says. "Next year's freshman class is strong, and many of the girls will make an immediate impact."