New boys lacrosse coach Jordon Hodder brings with him the pedigree of a state champion. In his position as an assistant coach at Mars Area High School, he helped drive the team to win the 2022 PIAA Class AA championship, the first time a school west of Harrisburg had ever won the crown. He knows what it takes to be successful and has brought that knowledge and an enormous amount of enthusiasm to Fox Chapel Area's program.
Following his appointment in the fall of 2022, Coach Hodder started to get to know his players in order to get an idea of the team's personalities and skill levels. His assessment? " The team has a lot of talent, but I want to see the players see the potential in themselves and then build off of that confidence."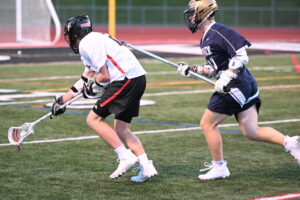 He developed an acronym, COMPETE, that summarizes the kind of culture he wants to create for the program and the players ¬– creativity, optimism, motivation, pride, energy, team, and efficiency.
"We want to build on those concepts and show the kids that they need to be part of something that is bigger than themselves," says the coach, who is also involved with the development and promotion of the sport through club lacrosse. "They might think that is out of reach, but that doesn't mean we can't get there. I really want this team to be something that they can be proud of and serve as an example to grow the sport in this area."
A Look at Team Potential
Last season, the team missed the WPIAL playoffs by one win, and there were several high-level games that they lost by only one point. They lost a talented senior class but return with a lot of the pieces to the puzzle remaining to build upon.
This year's roster includes returning seniors Roman Mason and Adam Zimmerman. Joining the team this season are senior attacker Danny Downey and senior Noah Indianer, a short-stick defender who has experience but just joined the Foxes lacrosse team this season. There also is a core of returning juniors who have played together for about 10 years and are expected to contribute greatly.
Junior Rocco Didomenico, a long stick midfielder who plays a vital role in the transition from the offense to the defense and in faceoffs, says of coach Hodder, "He brings an elevated level of commitment to the program that sets an example for what he expects from his players."
Another junior, midfielder Ryan Napolitan, adds, "If I had to describe coach Hodder, I would say he is hardworking, realistic, and passionate. I think he can add a lot to this program. With a new, young coach and our young team, we've worked really well together. I think he brings a new life to this program that was very much needed after our failure over the past few years with the good teams that we have had to play."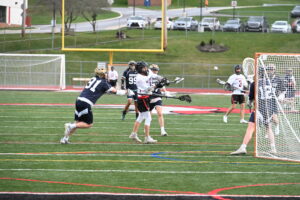 In addition to Rocco and Ryan, another junior standout is goalie Kaeden Pekarcik, an all-WPIAL pick last season and a Florida Southern College recruit. Juniors Owen Cooper (defense) and Jake Siddons (attacker) also return and will make big contributions, and Nolan Childs and Jack O'Brien are also players to watch.
"It is really a luxury to have such a good defense and a have a goalie of Kaeden's caliber who we can lean into and help us win games," coach Hodder says. "Jake is a lefty who gives us a huge advantage on offense and will give opponents' defenses a run for their money. Ryan is very talented and allows us to attack all over the field, and Rocco has great skills."
Other players expected to contribute are sophomore defensemen Trip Goehring and Dylan McCaffrey.
As the spring preseason kicks in, coach Hodder's priority is to work on the basics – stick skills, ground balls, shooting, having players know exactly where to position themselves on the field, and gaining a strong mental attitude. He also sees opportunities to improve communication skills on the field.
"What I'm most excited for in this upcoming season is to prove what we can do," Ryan says. "As a team, we have a chance to compete at a high level, and I think going into this year we definitely have something to prove."
Rocco adds, "Coach Hodder has been trying to push all of his players to be better every time we meet. I'm excited to see what he has in store for us as we get into our 2023 season."
For first-year coach Hodder, it is rewarding to see how coachable and excited the boys are to have a great regular season that will lead to a WPIAL playoff appearance.
"All of our players have a strong desire to get better and grow as players," he says.
Coach Hodder's staff for the season includes goalie and defensive coaches Rip Correnti and Ben Romah; coach Romano Veneziano, who contributes on both sides of the field; and volunteer coach Wyatt Royse.