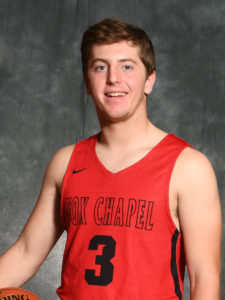 Senior Shane Susnak is a Foxes' standout athlete in football, basketball, and baseball, and his performance in the classroom is even better. His exceptional efforts drew the attention of a WPIAL review board, which recently honored him as one of only 10 male student athletes to receive a $1,000 WPIAL Scholar-Athlete scholarship.
The awards are issued annually to 10 males and 10 females based upon an applicant's athletic and educational achievements, as well volunteer and community service activities.
Shane, an upcoming freshman at the University of Notre Dame, has taken advanced placement (AP) classes in nine subjects, holds a weighted grade point average of 4.40, and his unweighted quantitative average is 4.0. He has never received anything less than an "A" on any of his report cards. This school year, the National Honor Society member was named a Commended Student by the National Merit Scholarship Program and was named an AP Scholar for scoring at least 3.25 on three or more exams.
In athletics, Shane was the Foxes' varsity starting quarterback for the past two years, serving as a captain this year, and, during the 2019 season, broke the school's former passing record. His performance led to his selection to the Big 56 first team all-conference team. Additionally, Shane was the speaking captain for the 2019-2020 basketball team that tied the school record for the most consecutive wins in league play. He missed last year's baseball season due to an injury, but as a JV captain the year before, led his team in pitching strikeouts, batting doubles, and stolen bases.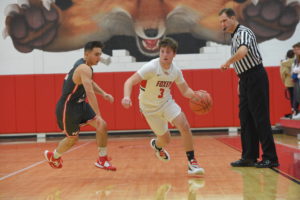 In the community, Shane is a tutor with the Back on Track program at Dorseyville Middle School and an instructor for the Foxes' Little Dribblers basketball camps.
Not being involved in a varsity sport will be very different for Shane, but he plans to stay active in college at some level, perhaps on a club or recreational team.
"Shane epitomizes what it means to be a student-athlete," says Athletic Director Mike O'Brien. "Throughout his high school years, and even prior to them, Shane has demonstrated the highest levels of commitment and dedication to both academics and sports. He is level-headed, holds himself to the highest standards, and is one of the most impressive leaders I've seen in high school sports. I have no doubt Shane will continue to be successful at Notre Dame and in whatever endeavors he chooses in the years to come."