Foxes' student-athletes and their teams did a fantastic job during the fall and winter seasons. Unfortunately, during this unprecedented time, the spring sports season was unable to be played. Although we truly wish the circumstances were different, in an effort to recognize the senior athletes who did not get to play their final high school season, we have included their names in this report.
We had a lot of firsts and records broken during the two sports seasons, particularly in boys golf, girls swimming, and girls tennis. We are proud of our three state champions – boys golf, girls tennis, and freshman swimmer Sophie Shao. Additionally, 12 teams qualified for the WPIAL playoffs and six of them were section champions.
Many thanks go to strength and conditioning coach Brandon Peifer and his assistants for the fine job they are doing to keep student-athletes motivated and in shape during the pandemic. They worked very hard to implement virtual workout programs that can be accessed from home, are making themselves available if athletes want some personal guidance, and are sharing creative ways to exercise at home when student-athletes cannot go to the weight room to work out.
We all look forward to getting back to playing and watching our sports teams, when the time is appropriate. Until then, keep up the good work and Go Foxes!

All-State 
Soccer: Zane Ingram
Cross Country: Christian Fitch and Grace Sisson
State Champions – Team
Boys Golf
Girls Tennis
State Champions – Individual
Swimming: Sophie Shao
PIAA Medalists
Tennis: Charlotte James
Diving: David Manelis
Swimming: Sophie Shao
PIAA Team Qualifiers
Boys Golf
Girls Tennis
Girls Swimming
PIAA Individual Qualifiers
Cross Country: Christian Fitch, Brooke Krally, and Grace Sisson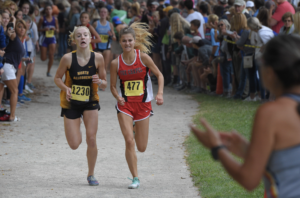 Diving: David Manelis
Golf: Scott Bitar, Aidan Oehrle, Nina Busch, and Erin Drahnak (1st alternate)
Swimming: Sophie Shao (100 fly/breast); Talia Bugel (100 backstroke); Leia Ross (100 backstroke); Talia Bugel, Sophie Shao, Rei Sperry, and Vivian Shao (200 medley relay team); and Talia Bugel, Grace Gackenbach, Vivian Shao, and Sophie Shao (400 free relay team)
Girls Tennis: Charlotte James
Indoor Track and Field: Christian Fitch (3,000 meters); Nele Frank (long jump); Grace Sisson (mile); and Abby Kieffer, Maddy Kieffer, Brooke Krally, and Grace Sisson (distance medley relay team)
WPIAL Team Champions
Boys Golf
WPIAL Individual Champions
Diving: David Manelis
Golf: Scott Bitar
Tennis: Charlotte James (1st time in school history)
WPIAL Playoff Qualifiers – Teams
Boys Basketball
Girls Basketball
Boys Cross Country
Girls Cross Country
Football
Boys Golf
Girls Golf
Girls Tennis
Boys Soccer
Boys Swimming
Girls Swimming
Wrestling
Section Champions
Girls Swimming
Boys Basketball
Boys Cross Country
Boys Golf
Girls Golf
Girls Tennis
Team Reports
Baseball (no 2020 season)
Seniors are Gavin Donaldson, Justin Donnick, Aidan Humes, Shane McManus, Alex McRandal, Branden Stipetich, and Shane Susnak
College recruits: Alex McRandal (Heidelberg University) and Branden Stipetich (Penn State New Kensington)
Boys Basketball 21-2, 10-0
1st time since 1977 team ranked #1 in PIAA Class 6A during season
Tied school record set in 1977 for most consecutive wins (20)
Advanced to WPIAL playoffs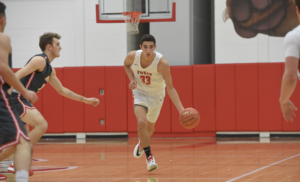 Undefeated WPIAL Class 6A Section 3 champions
WPIAL Class 6A Section 3 1st team: Eli Yofan and Arnold Vento
WPIAL Class 6A Section 3 2nd team: Will Livingston
WPIAL Class 6A Section 3 honorable mention: Shane Susnak
WPIAL Class 6A Section 3 Coach of the Year: Zach Skrinjar
Valley News Dispatch all-star 1st team: Eli Yofan
Valley News Dispatch all-star 2nd team: Arnold Vento
Shane Susnak selected as 1 of 10 male recipients of WPIAL James Collins Scholar-Athlete Scholarship Award
Girls Basketball 10-10, 7-7
New coach Marty Matvey led team to WPIAL Class 6A playoffs
WPIAL Class 6A Section 1 1st team: Ellie Schwartzman
WPIAL Class 6A Section 1 2nd team: Domenica Delaney
Valley News Dispatch All-Star Team: Ellie Schwartzman and Domenica Delaney
Won Shady Side Academy Tournament
Cross Country
Boys 8-0, 8-0
All-state Class 3A 2nd team: Christian Fitch
PIAA Class 3A medalist: Christian Fitch (11th)
PIAA Class 3A championships qualifier: Christian Fitch (4-time state qualifier)
Team finished 4th out of 31 teams at WPIAL Championships
Division I, WPIAL Class 3A Section 4 champions
WPIAL medalists: Christian Fitch (5th)
Gateway Invitational team champions
Alle-Kiski boys cross country runner of the year: Christian Fitch
Alle-Kiski all-star 1st team: Shane Funk
Alle-Kiski all-star 2nd team: Ryan Kenyon, Jack Lorence, Jose Morales, Ethan Napolitan, and Oscar Oliva
Winner of annual Fox Chapel Area School District Athletic Department Team QPA Annual Award Contest with an average varsity quality point average of 3.932
College Recruit: Christian Fitch (Temple University)
Girls 6-2, 6-2
All-state Class 3A 2nd team: Grace Sisson
PIAA Class 3A medalist: Grace Sisson (8th)
PIAA Class 3A championships qualifiers: Grace Sisson and Brooke Krally (4-time qualifiers)
WPIAL medalists: Grace (5th) and Brooke Krally (15th)
Section meet 1st place: Grace Sisson
Alle-Kiski girls cross country runner of the year: Grace Sisson
Alle-Kiski all-star 1st team: Brooke Krally
Alle-Kiski all-star honorable mention: Riley McIntyre
Won Gateway Invitational
College recruits: Brooke Krally & Grace Sisson (Duquesne University)
Field Hockey 5-11, 3-6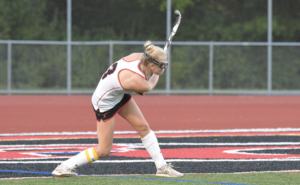 WPIAL Class 3A Division I all-star 1st team: Sloan Rost
WPIAL Class 3A Division I all-star 2nd team: Ellie Markel
College recruit: Abby Troutman (Ohio Wesleyan University)
Football 4-7, 3-4
Advanced to WPIAL Class 5A playoffs
Coach Tom Loughran earned 200th career win
Senior quarterback Shane Susnak threw for 1,791 yards during the regular season (1,940 total with playoffs), breaking Billy Urso's former all-time passing record of 1,600 yards set in 2013
Most players in at least five years selected to 5A all-conference team
WPIAL Class 5A Section 3 1st team: Ryan Billings (C), Sam Brown (LB), Lorenzo Jenkins (WR), Shane Susnak (QB), and Alex Wecht (LB)
WPIAL Class 5A Section 3 2nd team: Zakaria Essaouab (PK) and Ed Farrell (OG)
WPIAL Class 5A Section 3 honorable mention: Thomas Golembiewski (OT), Caleb Kulikowski (DT), and Warner Macklin (DB)
Shane Susnak selected as 1 of 10 male recipients of WPIAL James Collins Scholar-Athlete Scholarship Award
College recruit: Sam Brown (Duquesne University)
Boys Golf 22-1, 12-0
PIAA Class 3A team champions – 1st time in school history
Scott Bitar and Aidan Oehrle tied for 1st place among all players at team PIAAs
Team invited to the invitation-only 2020 High School Golf National Invitational for a 3-day event featuring the top boys golfers across the country
PIAA individual championship qualifier: Scott Bitar
WPIAL Class 3A team champions (1st time in 13 years)
WPIAL Class 3A individual champion: Scott Bitar
PIAA West Region qualifiers: Scott Bitar and Aidan Oehrle
WPIAL 3A individual qualifiers: Amani D'Ambrosio, Scott Bitar, Will Livingston, Matt Mattioli, and Aidan Oehrle
Undefeated section champions
Amateur Junior Golf Association Scholastic Junior All-American: Scott Bitar
College recruits: Scott Bitar (Miami University of Ohio) and Amani D'Ambrosio (Johnson & Wales University)
Girls Golf 16-0, 10-0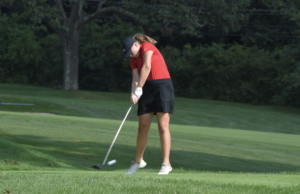 WPIAL Class 3A team finals: 4th place
WPIAL Class 3A Section 4 champions, undefeated regular season
PIAA 3A West Region qualifier: Nina Busch and Erin Drahnak (1st alternate)
WPIAL 3A individual runner-up: Nina Busch
WPIAL 3A individual qualifiers: Nina Busch and Erin Drahnak (2nd year)
Gymnastics
WPIAL individual qualifiers: Zoe Fitzsimmons (vault, floor, balance beam), Claire Hamilton (vault), Audrey Mah (vault, floor, balance beam), and Jenna Tupponce (vault)
Winner of annual Fox Chapel Area School District Athletic Department Team QPA Annual Award Contest with an average varsity quality point average of 4.181
Boys Lacrosse (no 2020 season)
Seniors are Jackson Boychuk, William Carnevale, Jacob Correnti, Tobias Fennell, Jack Flanagan, Woody March, Charles Smith, and Reed Troutman
Girls Lacrosse (no 2020 season)
Seniors are Brooke Clark, Devon Clark, Mary Ellis, Bryn Gerlach, Elizabeth Giuffre, Caroline Redican, Caroline Rost, and Emily Scheffler
College recruits: Mary Ellis (University of Maryland, Baltimore County) and Caroline Redican (University of Louisville)
Boys Soccer 12-4-3, 9-2-3
WPIAL 4A quarterfinalists
Pennsylvania Soccer Coaches Association all-state team: Zane Ingram
WPIAL Class 4A team: Zane Ingram, Josh Miller, David Shin, Eli Yofan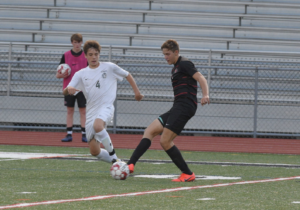 WPIAL Class 4A Player of the Year: Zane Ingram
WPIAL Class 4A Section 1 1st team: Clayton Humbert, Zane Ingram, and Josh Miller
WPIAL Class 4A Section 1 2nd team: David Shin and Eli Yofan
WPIAL Class 4A Section 1 honorable mention: Anthony Shin and Tommy Tsai
Pittsburgh Post-Gazette all-area team: Zane Ingram
Alle-Kiski all-star 1st team: Zane Ingram
Alle-Kiski all-star 2nd team: Joshua Miller, Anthony Shin, and Eli Yofan
Girls Soccer 10-7-1, 6-6
WPIAL 4A playoffs, advanced to quarterfinals
WPIAL Class 4A Section 1 1st team: Lucy Ream
WPIAL Class 4A Section 1 2nd team: Makayla Mulholland and Kaylee Uribe
WPIAL Class 4A Section 1 honorable mention: Claudia DeMartino
Alle-Kiski all-star 1st team: Lucy Ream
Alle-Kiski all-star 2nd team: Claudia DeMartino
College recruit: Claudia DeMartino (Catholic University of America)
Softball (no 2020 season)
Seniors are Nicole Blackwell, Joanna Delaney, Claire Katz, Jessica Klein, Skye Lewandowski, and Abigail Troutman
Swimming
Girls 12-0, 6-0
PIAA Champion: Sophie Shao – 100 butterfly
PIAA Medalists: 7th place Sophie Shao (100 breaststroke)
PIAA qualifiers: Sophie Shao (100 butterfly as the #1 seed and 100 breaststroke); Talia Bugel and Leia Ross (100 backstroke); Talia Bugel, Grace Gackenbach, Sophie Shao, and Vivian Shao (400 freestyle relay team); and Talia Bugel, Sophie Shao, Rei Sperry, and Vivian Shao (200 medley relay team)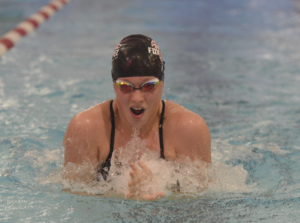 WPIAL girls team medalists: 3rd place out of 26 scoring teams
WPIAL Class 3A Section 3 undefeated girls champions
WPIAL champion: Sophie Shao (100 butterfly)
WPIAL medalists: 2nd place – Talia Bugel, Grace Gackenbach, Sophie Shao, and Vivian Shao (400 free relay team); 3rd place – Talia Bugel, Sophie Shao, Vivian Shao, and Rei Sperry (200 medley relay team); Talia Bugel – 3rd place (100 backstroke); 4th place – Sophie Shao (100 breaststroke); and Leia Ross – 4th place (100 backstroke); 5th place – Grace Gackenbach, Vivian Shao, Rei Sperry, and Julia Stutzman (200 free relay team); 6th place – Talia Bugel (50 free)
Girls set 7 new pool records this season and 3 new team records
College recruits: Leia Ross (Edinboro University)
Boys 9-3, 5-1
WPIAL individual qualifiers: Nate Anderson, Nate Gaggini, Nathaniel Ross, and Will Wang (200 Medley Relay); Jake Sperry (200 free and 500 free); Aadil Pattada (100 free and 200 free); David Dering (200 IM); Nate Serkov (50 free); Nate Anderson (50 free); Will Wang (100 fly and 100 breaststroke); Nathaniel Ross (100 free and 100 backstroke); Nate Anderson, Nate Serkov, Jake Sperry, Will Wang (200 free relay); and Nate Anderson, Nathaniel Ross, Holden Smith, Jake Sperry (400 free relay)
Diving
PIAA Medalist: David Manelis
WPIAL Champion: David Manelis
WPIAL qualifiers: David Manelis, Aidan Ireland, Jacob Mulhern, and Tristan Vettier
Boys Tennis (no 2020 season)
Seniors are Avik Agrawal, Milo Baron, and Isaac Mah
College recruit: Avik Agrawal (Mercyhurst University)
Girls Tennis 21-2, 9-0
PIAA Class 3A Team Champions (2nd time in school history)
PIAA 3A runner-up: Charlotte James
WPIAL team runner-up
WPIAL Class 3A singles champion: Charlotte James (1st time in school history)
WPIAL runner-up: Doubles team of Carissa Shepard and Catherine Petrovich
WPIAL Class AAA Section 3 team undefeated champion
College recruits: Charlotte James (Davidson College) and Amanda Schilcher (California University of PA)
Indoor Track
Pennsylvania Track & Field Coaches Association (PTFCA) medalist: Christian Fitch 5th 1,600 meters, won second state medal and has five total state medals (cross country, indoor and outdoor track)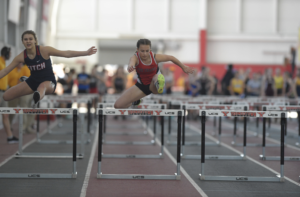 PTFCA qualifiers: Christian Fitch (3,000); Grace Sisson (mile); girls distance medley relay all-senior team of Abby Kieffer, Maddy Kieffer, Brooke Krally, and Grace Sisson; Nele Frank (long jump)
Tri-State Track Coaches Association (TSTCA) medalists: girls distance medley relay team of Abby Kieffer, Maddy Kieffer, Brooke Krally, and Grace Sisson – 2nd place; Nele Frank – 4th place long jump; Caleb Kulikowski – 7th place shot put; Ethan Flanders, Jacques Moye, Ethan Napolitan, and Oscar Oliva – 5th place boys 4×800; Jordan Helgert, Max Lucy, Ziggy Thomas, and Maurice Sampson-Schulter – 8th place boys 4×200
New school records: Christian Fitch (1,600); Grace Sisson (mile, 3,000, and 3,200); Brooke Krally, Maddy Kieffer, Abby Kieffer, and Grace Sisson (girls distance medley relay team); Nele Frank (long jump); Abby Kieffer (800); Caleb Kulikowski (shotput); Lauren Himmel (60m hurdles); Warner Macklin (triple jump); Caleb Kulikowski (shot put); Zoey Zoschg (high jump); and Carlie Barnett, Abby Kieffer, Madolyn Kieffer, and Kaylee Uribe (1600 relay team)
Outdoor Track and Field (no 2020 season)
Seniors are Mia Catone, Yezmeyn Chaudhry, Eric Chung, Sean Doherty, Christian Fitch, Annika Gleason, Henry Jacques, Abigail Kieffer, Evan Kieffer, Madolyn Kieffer, Brooke Krally, Warner Macklin, Shando Naini, Kyrie Nestel, Boomba Nishikawa, Oscar Oliva, Nicolas Perico, Michael Prato, Joseph Rhodes, Alex Sines, Grace Sisson, Felix Veser, and Steven Williams
College recruits: Christian Fitch  (Temple University), Abby Kieffer (undecided), Evan Kieffer (Marietta College), Maddy Kieffer (undecided); Brooke Krally (Duquesne University) and Grace Sisson (Duquesne University)
Boys Volleyball (no 2020 season)
Seniors are Patrick Kiszka, John Klamut, and Arnold Vento
Girls Volleyball 3-14, 0-12
Won Penn-Trafford Tournament
All-section honorable mention: Jessica Klein
College recruits: Madison Heininger (John Carroll University) and Jessica Klein (Rochester Institute of Technology)
Wrestling 9-9, 2-3
WPIAL qualifiers: Ray Worsen (120), Luke O'Connor (182), Alex Wecht (160), Eddie Farrell (225), and Jordan White (285)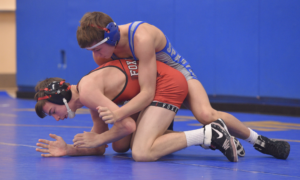 WPIAL Class 3A Section 3 champion: Alex Wecht
WPIAL Class 3A Section 3 runner-up: Eddie Farrell
Allegheny County High School Wrestling Tournament: Eddie Farrell won championship in his weight class – first time in 11 years Foxes wrestler won a title at that tournament
National Strength and Conditioning Association (NSCA) 2020 All-American Athlete Award: Alex Wecht
College recruits: Eddie Farrell (Gannon University) and Alex Wecht (Trinity College)
---
(Student-athletes listed as going on to play sports in college are based upon those reported to the athletic department, as of 4/20/2020.)