From the beginning of the season, boys tennis coach Alex Slezak was looking for leadership from seniors Will Ernharth and Zain Hassan, the only two players on the team who had experienced the thrill of winning four WPIAL Class 3A team championship and advancing to Hershey, PA, for the state's top tournament. At the April 20 Section 3 doubles championship, the coach was thrilled to see the kind of gumption that was so critical to the previous teams' success.
Will and Zain, in what were probably viewed as unexpected results by other contenders, advanced to the WPIAL Class 3A Section 3 finals and ended the day as the doubles runner-up after losing to Allderdice, 6-4,6-3. However, their performance placed them among the top doubles teams in the area, and now they will compete in the WPIAL championships.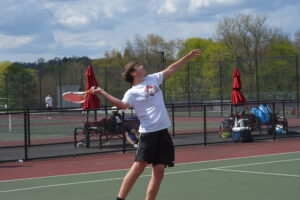 "There were a lot of other good teams that we had to face, but I think we were more determined knowing this would be our last chance at making WPIAL doubles," says Zain. "I wasn't planning on playing the net too often and mainly leave it for Will to close out points. It turned out that we were both really good at the net, which made it a lot easier for either of us to finish points and get early leads on some teams."
"I was very pleased that they were in the finals and how they attacked the net," says Coach Slezak. "Both used their size to their advantage and were imposing."
It wasn't as if Will and Zain had played as a duo all season and that experience is what got them into the finals. Rather, both athletes previously had different roles. Zain is the Foxes undefeated number three singles player, while Will normally plays on the squad's top doubles team with sophomore Ananth Kashyap. But Coach Slezak decided to pair them up for their senior year.
Will adds, "I think I'm a good fit for doubles because I'm 6'4", and my long wingspan is good for making plays at the net. When Zain and I heard we could play together, we were excited. It's a good way to end our years in tennis."
Setting an Example
"I've counted on our seniors – Will, Zain, and Nate Fetting – to mentor the younger players," says Coach Slezak. "All along, I've viewed that as possibly the biggest contribution they can make for the future of the program, even above what they are doing on the court."
"With a bunch of newcomers on the team, I feel it is our responsibility as seniors to help ease them into the expectations for our team," says Zain, who has always loved the experience of testing his skills against other, better players. "The past teams helped me realize how hard I needed to work and what I needed to do to achieve the success they did. We are trying to hold everyone to those standards set in the past and make sure we are working hard to stay at the top."
"Zain and I have been through it all and know how it works at this point," says Will. "I think our contributions are helping everyone to become more focused. A lot of kids this year have high hopes for themselves, so I have high expectations for the team in the future."
One of those up-and-coming players is freshman Will Siegel, the team's number two singles player. He has had a great year, with only one loss versus Shady Side Academy, and learned a lot in the process.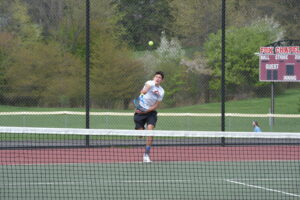 "What I learned is to never take anyone for granted," says the singles player, who has admired the high school players since he was in elementary school and always thought about playing for the team. "I had been used to winning, but that day, it slipped away from me before I could catch up."
Coach Slezak will be counting on Will Siegel and the Foxes' top singles player, sophomore Cooper Friday, to help lead the team to victory at the upcoming WPIAL Class 3A team championships.
"I like that it's a young team because we can develop together throughout the years to really be a force in the future," says Will Siegel. "Coach Slezak is a really good coach and gives us smart advice. He's great at explaining strategy, and he knows how to win."
Zain adds, "I think the team has progressed a lot from where we started at the beginning of the season. Keeping our rank as a decorated tennis team is what made us really come together and stay close. It's nice to know that we all want the same thing and will help each other reach for improvement."