For many years, when the Fox Chapel Area track and field program has been part of the conversation, a lot of attention was focused on the team's impressive runners, and for good reason. While there is still a lot of talent and potential there, it's actually been the Foxes' field athletes – the jumpers and throwers – who have proven to be some of the biggest point scorers this season. It is still early, but as of April 19, the field athletes already have contributed 111 points.
The Throwers
Senior Jessica Jing McCann, junior Caleb Kulikowski, and freshman Mason Miles are at performing at their best, and it's only mid-point in the season.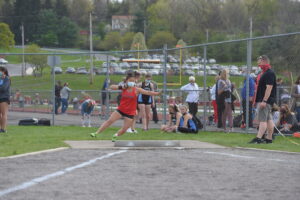 Jing has broken numerous school records (all of which were her own) in the discus. The Seton Hill University recruit has scored 44 points among the discus, shot put, and javelin. In Jing's signature event, the discus, she has improved her throw by seven feet since her sophomore season, the last time there was a full competitive schedule before the pandemic hit. She recently broke the school record in the discus with a 118'5.5" throw.
"Jing has always been one of the hardest workers on the team, but now she's starting to put it together during the competitions," says head coach Tom Moul. "She is an excellent competitor and one of the nicest people you will ever meet."
Caleb, who also plays football, has been equally as excellent in the Foxes' meets so far. The weightlifting he does for football has done double-duty for his throwing. His record throws as of April 19 are 114'8" in the discus, 45'3" in the shotput, and 146'1" in the javelin.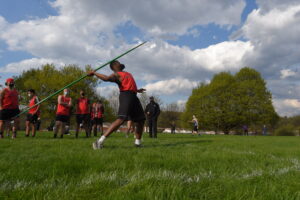 Mason has improved dramatically since the beginning of the season. His first stab at throwing the javelin resulted in a distance of 69' but by the time they faced Seneca Valley in the most recent meet, he threw for 94'2". His best throws in the shot put and discus are 41'9.5" and 103'5", respectively.
Coach Scott Karavlan says of him, "Caleb is just naturally strong and one of the best throwers we've had in a while. Besides that, he is a kind person. As our number one thrower, it would be easy for him to not get involved in helping the others, but he likes working with them to help them get better."
One of the athletes Caleb has taken under his wing is football teammate Mason, who has proven to be a very coachable student with a bright future. He has been right behind Caleb in second place in a number of events in the discus and shot put. Their consistent one-two punch signifies the first time in nearly a decade that the Foxes swept the top shot put positions at meets.
Looking ahead to the postseason, Coach Karavlan says, "Jing has a chance to reach the WPIAL finals in the discus, Mason in the shot put, and Caleb in all three events. Overall, this is the most competitive throwing squad we've had in quite a while."
Jumpers Also Soaring
Coach Tim McLister is seeing new faces among his jumpers this season and is excited about their potential.
Among the team's top experienced male jumpers are senior Dorian Gomez, who was a captain of the football team last season, is a track and field captain, and, overall, just a tremendous competitor. In addition, fellow senior football player Max Lucey, and first-year teammate senior Alex Khorey, are doing well. Although Alex is new to the Foxes' team, he came with a lot of jumping experience from his previous school.
"Dorian has shown a lot of growth over the years and is a tremendous competitor," says coach McLister. "He already surpassed his personal bests in both the long (19'6") and triple jumps (40'6.5") and brings a lot of experience and a strong work ethic to the program. He has been a great addition, and Max has contributed to all three jumping events."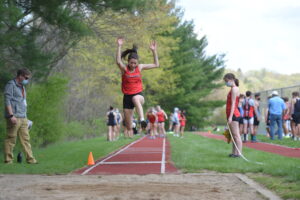 Seniors Elena Perez and Lucy Ream and junior Baylin Bitar are adding points too. After coming back from an injury and missing the first few meets, Elena earned her best jumps so far at the Seneca Valley competition with a 15'1" in the long jump and 33'5" in the triple jump. Lucy, who came out for track in her junior year and showed potential before the shutdown, also is an all-state soccer player recruited by Eastern Kentucky University. So far this season, she's won all of her competitions in the long and triple jumps.
"With continued improvement, I think we could have several jumpers in the mix to qualify for the WPIAL championship meet later in the year," says Coach McLister.
"I'm excited to see how these kids and others perform at our end-of-season invitationals, specifically Butler and Baldwin," says Coach Moul. "These meets will provide a measuring stick to see how we may fare at WPIALs, as well as provide a means for them to become qualifiers."