Siblings playing together on the same team isn't all that unusual, but this season, the boys lacrosse team has a rather unique situation. Among the team's players are a trio of brothers from one family, two sets of twins, and two other families with two siblings on the team. And, every player is in the varsity rotation, from freshmen up to seniors.
Coach Kevin Devinney has never had an occurrence quite like this one before but believes the familiarity is a good thing.
"I think, to be honest, the big brother usually initially serves as the role model, but the younger players eventually carve out their own roles as players," says Coach Devinney. "Most of the time, all of the brothers are encouraging each other and very supportive, which is good to see."
The coach's observations hold true for the three Scott brothers – senior Jack, junior Thomas, and freshman Andrew – who have a once-in-a-lifetime opportunity to play together on the same team. While they all play different positions, each player is defensive-minded and competitive.
"Andy is flashier with his takeaway checks and is always looking to cause turnovers, whereas Jack and Tommy rely more on their footwork and play a more traditional style of defense," says Coach Devinney.
Jack adds, "Andy likes to impress me and then hold it over my head! Tom is a blend between Andy and me. It's easy to look down the field and see Tom because I know where he'll be all the time. I think I'm less physically gifted, but I know more about defensive tactics, adjustments, and playing styles, so I can better adapt to what the offense is giving me."
Junior Ethan Napolitan and his freshman brother, Ryan, have been lacrosse fans for a long time, but this is the first year they have played together on the same team.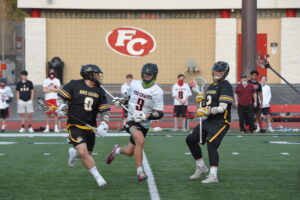 "We started playing around the same time," Ethan explains. "However, I believe Ryan actually started before I did. He did some clinics one fall with a coach, and he then started playing PYLAX (Pittsburgh Youth Lacrosse) the next fall. After seeing him, I practiced a little bit, and I really wanted to play too. I jumped in with the coach after my brother had practiced with him a few times, and then we both started with PYLAX the same fall season."
In the Cooper family, junior William and freshman Owen bring a similar style of play to the game. Both are tall, lanky, have good stick skills, and are solid defensively.
Two sets of twins also are on the team – seniors Henry and Zane Gavazzi and juniors Alex and Ryan Zatman.
"Despite both of our attempts to avoid each other, we have done almost everything together," says Alex. "We both have our own separate interests, but I think it was easier on our parents to try to get us to do the same things. We played multiple sports together, had the same friends, volunteered together, and were in the same classes. However, that kind of bond really brings us together and is something you only see with twins.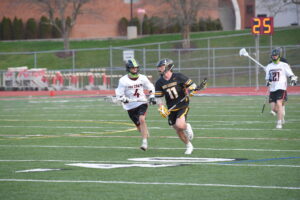 "There is some level of competition between us, but that really helps us push each other to be better. Ryan's hockey background is very apparent in his play because it makes him more efficient with a stick. I've been playing longer, but he shows a lot of potential, and I think he'll catch up to me quickly."
The Gavazzi twins, Henry and Zane, are new to the sport this season. Like the Coopers, they are very much alike, not only because some people find it difficult to tell them apart, but because they play similarly. Both twins take faceoffs for the team and, as multisport athletes, bring a great deal of physical strength to the field. Henry played on the Foxes football team all four years of high school and Zane has been equally as dedicated to wrestling.
Many of the siblings, along with their teammates, also enjoy another kind of "brotherhood" due to their experiences over about seven years of playing youth lacrosse together.
Ethan says, "We (juniors) have played together for so long, so we have good camaraderie. Everyone knows everyone, and we know how everyone plays. We also have some seniors who have played together for a very long time."
"I think all of our brothers have good relationships with each other," says Coach Devinney. "I don't see a lot of complaining about each other or bickering, as some siblings do. In fact, most of the time, the brothers are very encouraging and supportive of each other, which is good to see."