Part of the story about how well the Fox Chapel Area softball team is doing this year – it has had its best start to the season since 2015 – actually goes back about 10 years when pitcher Mackenzie Borkovich and catcher Amelia Herzer were just little girls and first took up the sport. For more than a decade, the two players have continued their friendship on and off the field, and now are great examples of how a good work ethic, respect, and great communication can lead not only to personal accolades, but most importantly, team triumphs.
Communication has been a big factor in Amelia and Mackenzie's shared success. They don't even need to talk much during games to understand each other. Their language is mostly a silent one in which signals and hand gestures stand as the most efficient and effective way to say what's on their minds.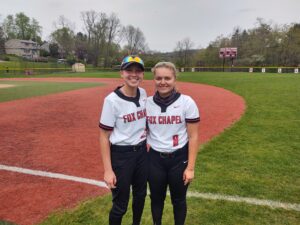 An example of just how well the tandem works together was when the Foxes beat undefeated North Hills and then non-section WPIAL 6A foe North Allegheny. The duo had combined on defense to keep North Hills to one point, and then Amelia contributed a two-run homer in the bottom of the sixth inning to win the game. But both players agree that the walk-off win against North Allegheny was their own and the team's best to date.
So far this season (as of 4/24), Mackenzie has pitched every game for the Lady Foxes, has a 7-3 record with 124 strikeouts, and only 21 walks. Just looking at her physical appearance though, might lead to some erroneous assumptions about her talent. She has a very petite, thin build and is not as tall as a lot of pitchers. Yet, she has a black belt in Taekwondo and, according to Coach Dr. Chris Olbrich, is a "tenacious bulldog on the mound, very strong, and unrelenting."
Mackenzie also displays incredible composure for a player whose only experience pitching at the varsity level was two years ago when she was a freshman and the team was then playing 6A, the most difficult section in the WPIAL.
"Mackenzie knows when she needs to get a big strikeout to get out of a jam, and she goes and gets it," adds her coach. "The biggest changes from her freshman season are that she throws more strikes and knows the importance of getting ahead in the count to all batters. Also, the movement on her pitches is impressive, and she has durability. She has worked very hard over the last two years to become the improved player she is today. I think with continued hard work, the sky is the limit for her."
He continues, "Amelia eats, drinks, and sleeps softball. She handles pitches very well, calls a good game, and is a leader to all the girls on the field, all of which are important and valuable roles for the catcher. She is constantly talking to the team to play harder to get better because she loves the game so much. Amelia also leads the team in batting (.419), hits, and runs batted in."
Symbiotic Relationship
The pitcher credits Amelia for a lot of her success. The junior says, "Amelia has caught for me since we were 8, and I know that I can always rely on her."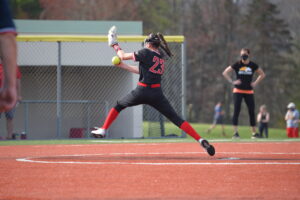 "On the field, Kenzie and I are like twins," says Amelia. "We know what each other is thinking all the time and at every pitch. Off the field, we help each other, non-stop, every day. If we don't have practice for school ball, I'll text her and ask if she wants to go take reps at the field. Our relationship has grown so much over the years. If we are not on the field, we're talking about softball. If we are on the field, we're still talking about softball. We have a passion for this sport that we can't explain."
Both juniors credit their fathers with helping them mature as players, during the pandemic when all athletes had to do a lot on their own.
"My dad and I practiced all throughout the fall of 2020," Amelia says. "He would throw me front tosses and hit me grounders for hours, no matter if it was dark or light outside. I'm also always out on the field. Keeping up with practicing the fundamentals has really helped me through the years with fielding and batting. I also think to myself, "If I don't go on the field and keep it consistent, then I'll lose my mojo."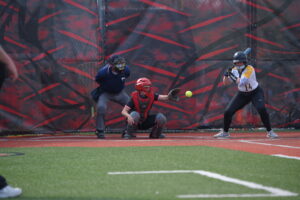 Mackenzie has benefited from her father's softball wisdom and both of her parents' support. "I have a hitting cage set up in my basement, and my dad has been my catcher since I started. He made a pitcher's mound and batter's boxes in our backyard. I really believe the reason why I did so well in my first season was because of my parents, who have taken me anywhere I have needed to go and have been at every game."
As is often said, it takes a village … and that's certainly the case with Amelia and Mackenzie. With guidance from their families and coaches, and just as importantly, their peers and fellow players, the duo has set a standard this season that the entire team hopes will lead them to the WPIAL Class 5A playoffs for the first time since 2018.