Fox Chapel Area swimmer Sophie Shao won her second consecutive PIAA title in the 100 butterfly at the 2020-2021 PIAA championships on March 20 and joined a very small group of swimmers, male or female, to win a state title. Not only that, but she also became the first-ever in the program to become a PIAA champion more than once – and she is only a sophomore, with so much more untapped potential.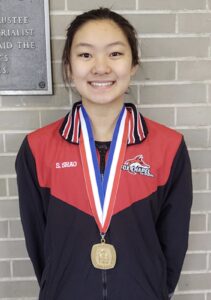 The other swimmers to win state titles were in 1995 in the 500 free and 400 free relay; Zoe Skirboll in 2019 in the 200 IM; and Sophie in the 100 fly last year and again this year.
Repeating Sophie's status as the reigning state champion in the 100 butterfly was not an easy win. Last year's silver medalist, sophomore Sydney Gring from Muhlenburg, was back again and gave her a challenge to the very end. Sydney was in the lead early on, and Sophie knew she had to ramp up things quickly or she might lose the race. So, Sophie poured it on during the last 25 meters, pulled ahead, and finished with a time of 54.59. Her 50 split time was the fastest among all heats in the fly.
"I literally went at it with all I had," says Sophie, who won last year with a time of 54.22. "I tried to hold my underwaters as long as I could in the last lap and could hardly breathe when I finished. Really, I just wanted to get it over with because I was pretty tired from doing the two (200-medley relay) and the 200 IM within 30 minutes before I swam the fly. I'm not quite as happy with my time in the fly as I wanted to be, because I feel I have a lot more in me, but I'm satisfied, and I can't wait until next year.
"I've always concentrated on the backend of my races, but in the offseason, I definitely want to work on my out-front speed because I think I could have gone faster in a lot of my events. I'm also going to do a lot of drylands (core, endurance, and weight training), and I can't wait to get outside to run."
Sophie also medaled individually in the 200 IM with a sixth-place finish. Sophomore Talia Bugel placed ninth in the 100 backstroke, up a notch from last year's finish. At his first-ever state championship, freshman Zachary Zornan Ferguson finished 10th in the 50 and 500 freestyle races.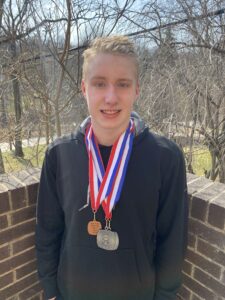 "For my first opportunity at states, I think things went pretty well," says Zachary, who still suffers from a nagging wrist injury that occurred months ago. "I wasn't as nervous as I was at WPIALs; I just went out too fast."
Coach Dan Taylor adds, "Zack has a very strong and powerful stroke. As he continues to work on his underwater skills, his freestyle events will continue to improve."
Fantastic Four
"Coach Dan put a lot of focus on the relays this year, especially the 400," says senior Vivian Shao, a member of both the 200 medley and 400 freestyle relay events. We put a lot of work into them."
Both relays were composed of the same fantastic four swimmers: Vivian, junior Rei Sperry, Sophie, and Talia. They finished fourth in the 200 medley at PIAAs, up from ninth place last season, with a time of 1.45.42. But that wasn't the outcome that thrilled the group the most.
Vivian says, "We were satisfied with our time in the two (200 medley relay), but we were ecstatic after the 400 free relay. Ever since Rei and I have been on the team, and for the past two years for Sophie and Talia, we have been going after the school record in the 400. It felt amazing to do so well because we didn't even medal at states last year."
"It had been our goal since the beginning of the season," says Rei, who swam her lifetime best of 51.99 in the backstroke in the 400 free relay and helped the team drop almost a second off of their seed time. "The record was set in 1995, and I think it was the longest-standing record for Fox Chapel Area swimming."
When the championships finally concluded, it was a bittersweet moment for Vivian, the sole senior and role model whose leadership was critical in developing the younger swimmers.
"I was personally happy with my times, but I think what I will remember the most is the 400 free relay and when Sophie hit the last 25 yards in the fly. We were counting down once she hit 30 (54.30), and we all were screaming until she won."
Rei says, "Everyone has worked so hard, and it really paid off. It was such a fun day!"