In 2020, Kellee Cribby was about to start her first year as the Foxes new girls lacrosse coach, but that never happened. Now in her first official season with the team, she's taking on a challenge to replace some very good players who graduated since the group last played. Luckily, that hasn't been as difficult as it may seem.
The team is a big one and drew 46 players at tryouts. The coach was able to keep all of them.
"We definitely saw big numbers try out this year," says the coach. "I think as the sport of lacrosse has grown, the interest and access to the game at a younger age has also grown, so we're seeing more and more players at the high school level.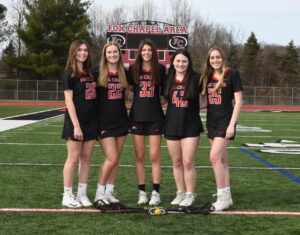 "This season, we have a great group of seniors in Lily Zaltman (attacker), Hannah Humes (goalie), Eliza Auffenberg (defender), Lauren Marotte (attacker), Alexa Correnti (midfielder), and Emma Wecht (midfielder), and I'm excited to have them back on the field."
In addition to the seniors, juniors  Sydney Kennedy (attacker), Mira Tramontina (defender), and Alden March (defender) also are returning and are expected to big producers. Other returning varsity members are juniors Sarah Giuffre (midfielder), Annabel Siddons (defender), Isabella Geraci (attacker), and Elle Coleman attacker), and sophomores Mercer Murton (midfielder), Lindsay Scheffler (midfielder), and Zoe Fitzsimmons (midfielder).
"I think our biggest challenge is getting the team comfortable being back out on the field," says Coach Cribby. "A year is a very long time to have not played. Losing their season last year has made them hyperaware that any game or practice could be their last one. That really motivates them to work hard and do as much as they can whenever they have the opportunity to be on the field."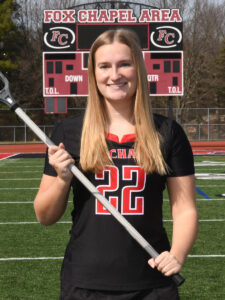 Eliza, who also played volleyball for the Foxes, adds, "I was nervous for this year because we had a lot of skilled seniors who graduated, but we all are wanting to work as a team and not just have one or two star players. We have some very athletic freshmen and sophomores who round out the team very nicely and we have a solid defense. We're looking to incorporate some new defensive strategies during games. Coach Cribby and our team are confident we can make it to WPIALs."
The last time there was a lacrosse season in 2019, the team made it to the WPIAL playoffs.
"The players have worked really hard in the offseason to keep up their strength and endurance. They have worked out on their own and also were able to utilize the strength and conditioning coaches at the high school in the preseason. Our team is extremely resilient and I'm proud of the way they worked together as much as possible in the offseason," says Coach Cribby.
All-around athlete Mira plays goalie in field hockey and believes that experience has helped her to see the field very well. Her concerns related to not being able to have a season last year have been quelled. She adds, "I think once we get settled with each other, it will be smooth sailing and growing from there. The team is very competitive, and Coach Cribby is an amazing coach. She will push all of the players to be the best they can be. I think last year we would have had a great chance of making the playoffs and we are definitely taking that same energy to this season."