A varsity soccer player for the Foxes since she was a sophomore, Sophia Oehrle decided she wanted to get to an even higher level of play and make the most of her senior year. She trained hard this past summer, from May to August, five days a week, and did a lot of conditioning. As a result, this season, she has been even more comfortable on the ball, and has been a great contributor to the team's success. (The squad will compete in the WPIAL Class 4A playoffs as the top seed.)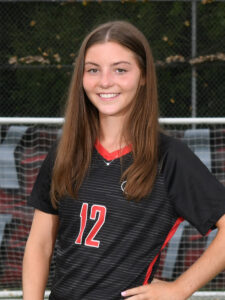 An attacking midfielder, Sophia possesses a high soccer IQ, makes quick decisions on the ball, and is relied upon to get the ball upfield for scoring opportunities. Her personal efforts might be overlooked at times because they do not always show up on the scoreboard, but they have been important to the team's excellent performance. In addition to being the best squad in WPIAL Class 4A girls soccer, the squad won the section title with 11 wins out of 12 games, and outscored their opponents 32-10.
"I think I've been playing well this year because when I get into a game, I really give it my all and work as hard as I can," says Sophia. "I have been able to stay pretty composed and controlled on the field and I think one thing I do best on the field is finding the perfect lane to pass the ball. I can see the field really clearly, so I am able to connect those passes to the feet."
Hard Work Pays Off
Sophia said this year's senior night game against Hempfield was one where everything came together for her. She says, "During that game, I controlled the ball really well and connected some good, key passes. I also scored my first goal of the season by heading it off of a corner kick."
Her coach, Peter Torres, says Sophia has really grown as a player over the past four years. "It's a testament to the work she puts in at practice and the time she commits in the offseason. Sophia is great teammate and a strong player who has been a big contributor this season. She is one of the nicest and most sincere athletes I have ever met and has a really positive influence on the younger players."
Sophia's senior teammate, Lucy Ream, agrees with their coach, and adds, "Sophia works her butt off every time she gets the chance. She has been very consistent all year long and deserves everything that comes to her. Besides that, Sophia always looks out for everyone. She makes us laugh and she is kind of like our team mom."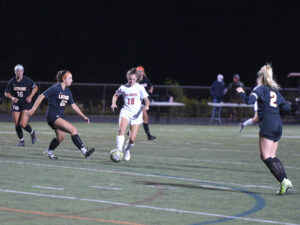 The midfielder also has had a positive influence on her twin, Aidan, who was a member of the school's first boys golf team to win a state championship in 2019 and competed this year in the PIAA Class 3A individual finals.
"Sophia doesn't know how talented she is in many areas, not just soccer. She is also very creative," Aidan says of his sister, who is a member of the Fox Chapel Area High School National Honor Society and the National Art Honors Society. "She is just a nice person. When I was in the hospital in my freshman year (after sustaining serious injuries in a car accident), she did not leave my side for 10 days. She was always making sure I was OK, and I think being in the accident took more of a toll on her than it did on me. It showed me how much she truly cares for me."
Looking Forward to Her Future
Once the season is over, hopefully with a PIAA champions trophy in hand, Sophia plans to hang up her cleats after 15 years. She has not decided on a college yet, but will study graphic design and marketing. If she finds he has some spare time, or is bored without any soccer practices or games, Sophia might have already found something else to occupy her.
"Recently, I have been playing a lot of golf because I am always around it with family," says Sophia. My golf game is actually pretty good for not playing much. My dad, brother, and grandfather all are very good golfers and have played with me a few times. They were so surprised with how naturally coordinated I am with the ball. My brother and I recently played nine holes at Longue Vue together, and I shot a 44, which was my best score yet. He's given me some great tips about golf!"