Foxes elite golfer Nina Busch is used to performing and is comfortable in front of an audience. Whether it's singing with the high school choir, the audition women's choral group, Vulpes Cantantes, or when playing the flute with the band, Nina enjoys the feeling of being on stage. Even so, she admits that playing in the WPIAL Class 3A individual championships was entirely different and that she was more than a little nervous all day long.
At the end of the day, the junior finished third among only five girls who earned a coveted ticket to the October 20 PIAA championships, but it wasn't easy. She had expected to feel a little comfortable since the location of WPIALs, Oakmont Country Club, is her home course, but she admits she was a little anxious all day long while competing.
"Oakmont is just a really tough course and there's trouble everywhere," explains Nina, who also felt some pressure to perform well on her home course. "You can miss in every way possible and sometimes the experience of playing there doesn't really matter."
Last season, Nina finished second at the WPIAL finals, but that was on the Diamond Run course. She describes it as "a really nice course that I enjoyed playing, but it's not Oakmont."
Mind Over Matter
Over the summer, Nina says she really improved her ball striking, thanks to a swing change.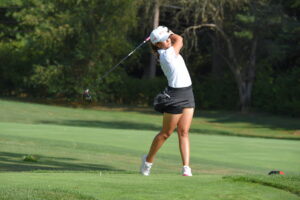 "It was something I needed to do to improve," she says, "but it's takes time and there are always a lot of tweaks to be made. I am definitely still working on it."
Nina also spent a lot of time reading about the unique mental preparation required for golf. A self-described Type A personality, Nina says it took a while for her to accept that in golf, nothing is ever totally mastered.
"Golf is a game of misses. It took me a while to realize that every shot isn't going to be perfect," Nina says.
Her dedication to becoming more mentally tough came into play at WPIALs.
"I didn't play my best that day, but I just kept thinking that I had to be good enough just to stay in the running," says Nina. "Even if I played better, I don't think I could have placed higher that day, but I did enough to carry me on to states."
"Nina is unique for her age because she is as resilient as someone twice as old," says Coach Tim Lang. "When you think she is having a rough day, she bounces back. When you think she needs a little pick me up, she'll say, 'I've got this coach.' Her strengths on the course are her management of misses and her putting. She has a way of putting herself back in position to recover. She really understands the commitment and passion it takes to have a great future, along with physical, technical, and mental training."
Nina will play at the PIAA Class 3A individual championships October 20 at Heritage Hills Golf Resort in York, PA. She hasn't played there before, but will get in a few practice rounds and walk the course beforehand.
"I've heard is a different kind of course with tight and tricky holes," Nina says. "For some reason, I'm not as nervous about states as I was for WPIALs. If I don't place where I want to this time, I'll still have one more opportunity to win it."