The first three phrases that came to field hockey coach Emily Humiston's mind when asked to characterize this year's team were, "great senior leadership, self-motivated, and dedicated to bettering themselves."
"The majority of the players are motivated to do extra work over the weekend, show up early or stay late to get some extra repetitions in, and put their own individual desires aside to help the team be successful," Coach Humiston says.
There are eight seniors, all of whom bring something unique to the field – Emma Burger (forward/mid), Hanna Harris (midfielder), Maddie Myerburg (defender), Brooke Ryan (forward/mid), Olivia Smith (forward), Libby (Mary) Thompson (defender), Sara Friday (forward), and Lily Zaltman (forward/mid)."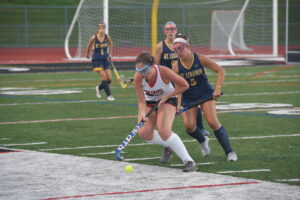 According to Coach Humiston, Brooke and Lily bring quickness to the team and high skill levels that make them vital to the Foxes' offensive line. Hanna, Olivia, Libby and Sara all share an eagerness to constantly develop their skills, an extremely valuable quality to possess, says their coach. Maddie was a starting defender last season, so the team, and especially the younger girls, will benefit from her experience and understanding of the group's strategies.
"Emma has battled some injuries over the past few years but has been a key player from the sidelines and really personifies the meaning of what being the "heart" of the team mean," adds Coach Humiston.
Although the group lost a good part of its starting lineup due to graduation, the good news is they have skill and speed that spans across every grade level. Coach Humiston subscribes to the concept that the best teams are those that are always evolving, and says, "I'm really excited to see who can step up to fill some key roles. I have no doubt that there will be some new stars on this team that might not have had a chance to shine until this season."
"Our team is already working together very well," comments Brooke, who returns as a captain for a second year. "I have seen a lot of skill and determination from our new players, as well as an impressive level of dedication and leadership from our returning players. Everyone is very excited to even have a season this year, so the motivation is noticeably high."
Brooke moved to a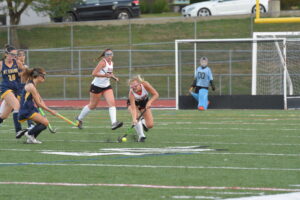 new position this year, high center midfielder, which she says has definitely been a bit of an adjustment.
"I have been playing as a midfielder throughout all of high school, but I have usually been on the wing. I am very excited to learn how I can benefit the team from this new position," Brooke says.
Lily, the team's second highest scorer last year, and the only four-year letter earner on the team, returns on offense, a position she says is perfect for her and has played since she was a freshman. Last year her efforts were rewarded when she was named the team's most valuable offensive player.
"I would characterize this year's team as a strong group of players who are fierce, excited, and hard workers," says the senior captain. "We have a lot of big things coming our way and a team full of energy and great work ethic. I think this year we will be in very good hands with an amazing group of seniors and girls who have stepped up to play at the varsity level. All of the seniors are excited to see how this season plays out, and so far, it's been awesome. If we all continue to show hard work, I think we will be a great team and go far this season."
While Lily's positivity is shared by Coach Humiston, experience has taught the coach that it's one thing to have a handful of talented players, but it's even more beneficial to have players who never stop trying to learn and better themselves.
"My expectations for this team are that they show up every day ready to push themselves, learn something new, and put what's best for the team first," says Coach Humiston, who still holds the title of all-time top scorer from her playing days from 2009 to 2013 at North Allegheny High School. "With the length of the season being so unknown, we won't be able to take a single day for granted. We need to come out strong from the start. They all know that it will take a united team and relentless effort to have a successful season this year."