Last year was rough for senior tennis player Emily Fera. First, there was the physical pain after suffering from ACL and meniscus injuries to her knee that kept her sidelined during the entire season. But, perhaps most of her anguish came from her inability to play the sport she loves most and be an active part of the team that won the 2019 PIAA Class 3A championship.
Emily has now made a full recovery and, after practicing almost every day, the natural athlete says she is confident her game is back and she's even stronger than before.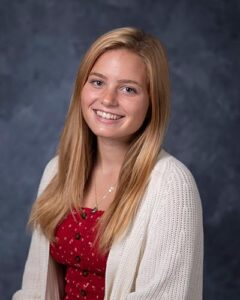 "I had to work a lot harder than everyone else to improve," says Emily, who leads the Foxes' top tennis doubles team. "I had to do a lot of training, but also keep my body's health in mind and not overdo anything. It was very hard finding a balance between doing too little and doing too much, but just like everything else, with time I got the hang of it."
In just the short amount of time the team has competed this season, interim head coach Laura Ward says, "Emily really has shown herself to be a leader. That says a lot; that someone can stand out in such a positive way in such a short amount of time. She really wants to make the most of her senior year. She's pushing herself to compete at a very high level and does an amazing job of ensuring that everyone on the team does their best, but also has fun doing it. I would say that Emily is the foundation that holds our team together. She creates a sense of unity throughout both the varsity and junior varsity teams."
That drive to keep the team united and harmonious comes from Emily's own experiences as an underclassman. "My doubles partner was (former player and Foxes' alum) Molly Wiese," Emily says. "I looked up to her so much and always thought of her as such a good teammate. I wanted to make sure I was always a good mentor and teammate like she was to me."
Her desire to help others reaches way beyond the court. She is a member of the Fox Chapel Area High School National Honor Society whose members are involved with tutoring younger students and is a member of a national high honor society that extends beyond this area. Emily also has volunteered for Hekima Place, an all-girls orphanage girls in Africa, and helps with the organization and promoting their mission.
"I've been to Africa twice and the long-lasting effects that Hekima Place had on me came from watching how resilient the girls were," Emily says of her experiences. "The girls taught me so much about happiness, to be grateful for everything I receive, even when things can get tough, and how important it is to stay positive."
An Ironic Beginning
Emily has played tennis since she was very little and, ironically, the Foxes' head tennis coach Alex Slezak (currently taking paternity leave from sports), was her first teacher. But it wasn't until middle school that she started to take the game more seriously, was noticed as having a lot of potential, and decided to make it her main sport. Emily started playing doubles when she tried out for the high school team in ninth grade.
Now a real student of the game, Emily says she believes some of her strengths as part of a doubles duo are her positive mindset and ability to motivate her partner if she gets discouraged.
"I think I work very well with others and am able to identify how people play and learn," says Emily, who also enjoys running and is a member of the Foxes' indoor and outdoor track teams. "I think that translates into also being able to recognize our strengths and weaknesses in order to create a strong doubles dynamic."
This year, Emily's partner is junior Anna Ferris, whose potency as a player lies in her intensity at the net and her ability to stay focused and evaluate each shot during a match.
"Anna and I have never played doubles together before, but I think we make a good team," says Emily, who is described by Coach Ward as a passionate player with a fierce hunger to do her best and sets very high standards for herself when she is on the court.
The Foxes' coach explains, "She has a big serve and is a force to be reckoned with at the net. Her focus and determination during matches, along with her incredible talent, make her one of our strongest players. She also wants everyone to feel a sense of belonging and know that we are all in this together, but she never loses the fight and drive to compete at her highest level."
Considering this is her comeback season and the final one of her high school career, Emily is determined to make the most of it as a player and as a leader.
"Last year I would have done anything to be on the court winning my own match," she says. "This season, I'm just extremely excited to see what's to come. I think Fox Chapel Area is going to be a hard team to beat this year. If we were to have a motto, it would be 'Fear the Fox,' because we will always give our opponents a very hard match. We have a lot of strong players, and I have been playing with some of these girls for most of my life. I am really grateful that I get to have my last year with people who have always shown me endless support and encouragement."