The Foxes are returning from their 2019 season after advancing to the WPIAL Class 5A playoffs for the second time in five years and celebrating head coach Tom Loughran's 200th career win. It was a good year, overall, but Coach Loughran's mission every year is to win the WPIAL title and go to states. He never strays from those lofty goals. No matter what.
So, amid the uncertainty about the 2020 season, the coaching staff and team have tried not to look too far ahead, but rather carry on as normally as possible amid the many COVID-19 health and safety protocols. One big concern shared by the coaching staff is that the players were not able to attend camp at California University of Pennsylvania where they typically learn, play, refine their skills, and bond as a team. But then again, all WPIAL teams are in the same predicament.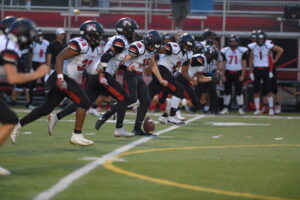 However, with a large group of seniors leading the way, and a strong junior class backing them up, the coaches say the team is "getting there."
"We have a good mix of kids from all grade levels," says Coach Loughran. "We've been working hard with our freshmen to build the program from the bottom up. We're also happy with what we have done with all of the players so far in order to catch up to where we'd normally be at this point in the season."]
Coach Loughran continues, "The team has been working with great effort and attention to detail for the past few weeks and attempting to perfect technique and assignment. We look forward to the opportunity to play at the level of competition that our schedule will provide."
Senior quarterback Justin Rice adds, "We have a class filled with hard workers and guys of high character with good attitudes coming back."\
The 17 senior players on the 2020 Fox Chapel Area High School football team are:
#62 Henry Gavazzi – At 6'2", he is one of the biggest players on the team. He is expected to be an impact player on the offensive line after being a key player last season. Also a wrestler, Henry has spent a lot of time in the weight room getting stronger each year.
#67 Thomas Golembiewski – A game-changer, Thomas has been a starter since he was a sophomore. Last year he played both offense and defense, but this season, the coaching staff is looking to optimize his aggressive style of play on the offensive line. An ice hockey player for the school's club team, "Golby" is also known as a tough defender in front of the net.
#38 Dorian Gomez – A tough player who doesn't shy aware from contact, Dorian is a defensive player and the starting corner.
 #16 Liam Kerr – A first-year player on the team, Liam is in the mix for backup positions as a defensive back and quarterback.
#71 Evan Kuhn – Has been on the team all four years and will play linebacker on defense.
#11 John (Max) Lucey – at 6'1", the coaching staff is looking for John to earn a starting spot in the secondary.
#17 Aiden Mack – A four-year player, Aiden is expected to be a candidate at wide receiver and as a defensive back.
#53 Robert O'Malley – A big player at 6'2", Bobby has been on the team for four years and will play on the offensive line this season.
#32 Raphe Pirzada – Raphe was a special teams player last year and has spent a lot of time in the offseason getting stronger. He is trying to earn the starting long snapper position.
#2 Justin Rice – A dual-threat tough quarterback who has the mentality of a defensive player. Last year, in addition to being the backup quarterback, Justin was a steady force on defense.
#7 Chris Rogalski – He was a defensive back and wide receiver last year and plays with a lot of edge. He has moved to outside linebacker and tight end for his senior year.
#85 Matias Schopfer – A first-year player on the team, Matias is vying for a position on special teams as placekicker.
#87 Michael Tarasi – He was the starting placekicker last year and has a strong leg. He has been working hard on his consistency and accuracy.
#70 Kevin Valdez – Kevin has locked down the starting center position, a change from last year. The coaching staff has been impressed with how he has shown more interest in learning the playbook and with the progress in his capabilities.
#14 Ben Wilk – He will be in the rotation as a wide receiver, possibly a starter. Ben is a hard worker with sure hands and is a good route runner.
#8 Cameron Wilson – Mainly a defensive back who also plays wide receiver. Cam has spent a lot of time working on his strength and conditioning to prepare for the season.
#30 Ethan Wilson – Was the starting punter last season whose improved leg strength has resulted in height and distance improvement.