After winning the PIAA Class 3A team tennis championship last fall, this year's group of players know every one of their opponents will try to dethrone them. They are hoping that their talent, enthusiasm, ambition, and an abundance of experienced returning players will help them perform as well as the 2019 group did. So far, so good if their first match of the season is a preview – they scored a clean sweep against Baldwin.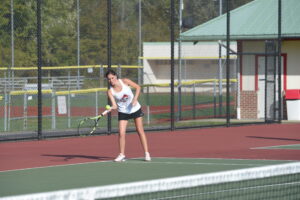 The team only lost one senior to graduation, but it was a big hit. Charlotte James was last year's WPIAL singles champ and went on to earn the runner-up title at the state tournament. Otherwise, seven varsity players have returned, four of whom will be in the starting lineup.
Carissa Shephard, who has been a varsity starter since she was a freshman, is now a junior and the team's top singles player. Last year, she was ranked second in singles play. Fellow junior Katie Voigt, who has been a very consistent player, has stepped into the number two singles position, and senior Paige Theoret, a real competitor by nature, completes the varsity lineup.
Also an experienced, successful tournament player, Carissa says of her teammates, "Katie and Paige both were doubles players last year, but I think they are great singles players as well. We are hoping to achieve much success with our new lineup."
Paige adds, "I'm super excited to play singles. I think my strength will be coming to the net because that's what it was in doubles. Our singles team is strong. Katie, Carissa, and I have been playing together for a long time, even before we were in high school. Because of this, I think we can give each other good tips and advice."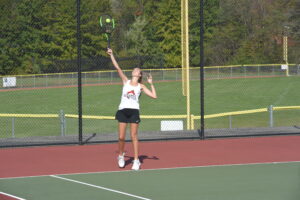 In doubles play, senior Emily Fera, who started as a freshman and sophomore, but had an injury that forced her forego her junior year, is a member of the team's top-ranked doubles duo. Even though she couldn't be on the court last season, her commitment to the team remained steadfast and she contributed as team manager. Her partner is junior Anna Ferris, whose strength lies in her intensity at the net and her ability to stay focused and evaluate each shot during a match.
"Anna and I have never played doubles before, but I think we will make a good team," says Emily who also enjoys a friendship with Anna outside of tennis. "It's nice playing with someone I feel comfortable with. I believe that this season we can both work together to improve our games."
"Emily and Anna are driven," says interim head coach Laura Ward. "Emily is also bringing leadership to the team and taking her role as one of the seniors seriously. She is setting an example for the rest of the girls."
The other varsity doubles team is comprised of juniors Hanna Essey and newcomer Bridget Kilmer.
Coach Ward believes the biggest strength of the team as a whole is their harmony. She says, "They all have played together before. They will go far if they can keep their strong team unity throughout the season." Carissa agrees with her coach and adds, "To succeed, we need to work together and give every match 100%.
The other members of the 2020 girls tennis team are seniors Margaret Dean, Isabella Hamm, Isabella Liberto, Alexandria Morton, Lucy Nichols, and Christine Thomas. Juniors include Hanna and Bridget, and Emilia Cody and Diya Reddy represent the sophomore class.