Tennis coach Alex Slezak is reluctant to say that this year's cumulative singles lineup might be one of his best in his 11 years with the program, but there's no denying there's a lot of winning happening on the courts this season.
All three of his singles players – senior top-seed Charlotte James, sophomore second-seed Carissa Shepard and freshman Catherine Petrovich – are undefeated with eight matches down.
Sophomore Anna Ferris has also been stepping into the number three singles slot at times to give her some experience.
But Coach Slezak doesn't want to call his line-up "talented," because he says talent is an illusion.
"Talent is simply the accumulation of lots of practice and these girls have a strong work ethic, which allowed them to see what outsiders see as talent," explains the coach. "We have had many 'talented' players over the last decade, and work ethic is something that has become part of our culture and the kids have come to understand this."
While tennis is an individual sport, the coach is equally as focused on turning each individual's performance into a team effort. He says, "That's probably the hardest part of my job. As a coach, you have about eight to 10 weeks to get the girls to realize they are not just playing for themselves when they are out there on the court, but for their teammates and school as well."
That mindset has seeped down to his players who are definitely working together to help raise each other's level of play and make the team a WPIAL Classs 3A championship contender this season.
Charlotte, a two-time WPIAL and PIAA doubles champion, is leading the way.
"It's good to be back and part of a team again," she says after taking off her junior year to play the USTA Junior circuit and now returning with an improved game and more self-confidence and mental toughness. "I really wanted to come back, and this year is exciting because we have so many good girls and great depth. It's a really young team, and I've just tried to share my knowledge, because I started as a freshman, and I know that having that pressure at such a young age can be tough."
"Charlotte has stepped up to be a leader and mentor to the younger girls," says the coach of his player who is ranked as the number two top senior recruit in Pennsylvania. She is nationally ranked by the United States Tennis Association Juniors as 119 overall. "Her depth of competitiveness is a real asset."
Carissa also is showing great promise and has been on a quick, upward trajectory.
"Cariss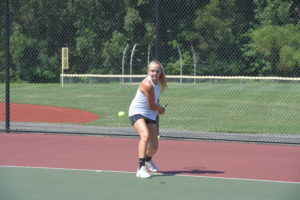 a has a tremendous work ethic, which is the reason she has improved so much, so quickly," notes her coach. "She is also a fantastic competitor."
Carissa's fierceness was evident when she played up and won the 16-year-old singles' age bracket at the recent United States Tennis Association (USTA)-sanctioned Fox Chapel Junior Open.
Last year, she came into the event unknown and unranked. This year, she was the top-ranked player in her age group.
"As a group, I feel like we're doing really together," says Carissa. "I've been hitting a lot with Charlotte, and she's amazing. She's just a great, supportive person."
The youngest member of the singles line-up, Catherine, wasn't even playing tennis a year and a half ago. She was actually a gymnast, but her mother convinced her to give tennis a shot, and she ended up loving it.
She says," I started off playing just once a week, but then this summer, I was playing four or five hours a day and sometimes up to seven hours."
Some of that playing time was with Carissa, with whom she won the 18-year-old doubles bracket at the Fox Chapel Junior Open.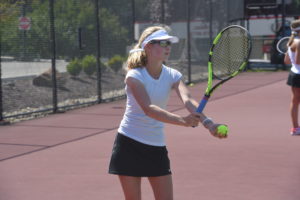 Catherine is described as a counterpuncher player. They are known for their consistency, good foot speed, and great defense, and like to use their opponent
s' pace against them. It's a style that's difficult to beat.
"With Catherine being fairly new to all of this, I look at her as an asset for the team because (opponents) not knowing what to expect makes everything new, exciting, and creates less pressure because there are no expectations of her," Coach Slezak says.
For now, however, the easy-going, supportive coach is trying to acknowledge the success of his individual players while steering them to work together as one unit with a singular group goal.
Their early elimination in the WPIAL playoffs last year is something they don't want to repeat.
"We simply need to keep working hard and approach every practice and match with laser-like focus," says Coach Slezak. "We'll go as far as we deserve to go. But we are not even halfway through the season, and I don't like to size up things at this point."