From the time they were freshmen, Christian Fitch, Brooke Krally, and Grace Sisson have been in the limelight. Their accomplishments have piled up, not only from cross country, which is currently in progress, but also from their elite performances in indoor and outdoor track.
But first things first. This cross country season, their last in high school, the trio is making their final run toward what will, hopefully, be their best season yet, while also mentoring younger teammates who will assume leadership roles going forward.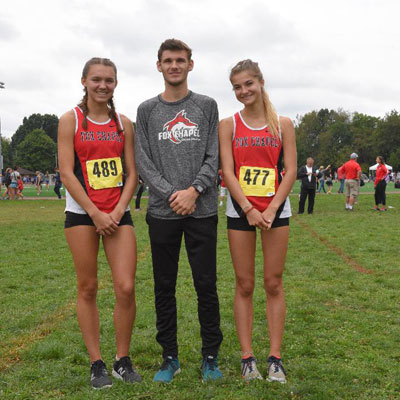 "Christian is doing a great job of leading what is otherwise a young group," says Coach Moul. "The boys have really been jelling as a team and I'm excited to see how well they can compete in our section and in WPIALs. Grace and Brooke also are taking on more of a leadership position and are strong examples of results that can be achieved with hard work. All three of them are just great kids."
One thing is certain; as multiple PIAA and WPIAL medalists, they have a wealth of information to share.
In cross country alone, Brooke and Grace were part of the Foxes' first state champions girls' team in 2017, and Christian is the highest-placing male at the PIAA championships in school history.
A Good Start
With the season still in its infancy, Coach Moul says his three top varsity seniors are pretty much where he wants them to be at this time of the year. Each has either topped the leaderboard in or finished in the top tier at every race so far, starting with the annual Gateway Invitational. The girls had a one-two punch, with Grace becoming the fourth consecutive and different Fox Chapel Area girl to win the invitational. (Alums Sarena Seeger, Caelan Miller, and Annika Urban earned the honor before her.) Brooke showed true grit and says she even surprised herself with her performance after not getting in enough mileage over the summer. Even though she missed nearly five weeks of training due to tooth surgery and an emergency appendectomy and had only recently started training again, Brooke finished a close second behind Grace at Gateway.
Christian also got off to a great start with his second consecutive first-place finish at the invitational.
First Real Test
The Red, White & Blue Classic held September 7 at Schenley Park was a better test for the runners. Just about all of the top WPIAL teams, and a few from Ohio and West Virginia, participated.
Christian finished second out of 280 runners, behind friend and foe Pat Anderson of Mt. Lebanon. "The Red, White & Blue Classic is probably the first race where we have all of the top guys in the WPIAL together, and it gives you an idea of where you are," he says. "It's very unusual to have so many WPIAL contenders and we're all still competing against each other, so the race is always a real test."
In their best showing in seven years, the boys' team placed third among all WPIAL Class 3A teams, and fourth overall.
"There is definitely reason for optimism for the boys for sure," says Coach Moul. "I'm looking at this as a measuring stick. It lets us know we can compete with some of the top WPIAL teams."
In addition to Christian, the group included juniors Shane Funk, Ryan Kenyon, and Jose Morales, and sophomore Jack Lorence. The other varsity runners were senior Oscar Oliva; juniors Jason Carter and Brendan Gladwin; and sophomores Jordan Gwin and Ethan Napolitan.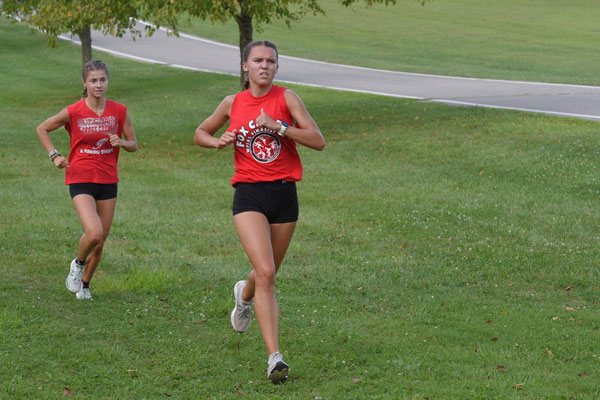 Grace and Brooke were happy with their times, which were better than last year. Both finished in the top-10 amid a group of 230 girls. The other members of the varsity squad running that day were senior Izzy Doerr and sophomores Gabrielle Klein and Riley McIntyre, although, as with the boys' team, the composition of the team remains fluid.
"My goal was to finish in the top of the pack and get out fast," says Grace, who placed seventh at the Red, White & Blue Classic. "I've been very happy with my results and training thus far."
"Many of the kids greatly improved their place-finishes from last year, and Shane picked up 50 places," Coach Moul says. "I think both the boys' and girls' teams have performed well so far, and I'm very proud of them. But we still have a lot of work to do."
"Wall of Famers"
Finally, the overall picture of the 2019-2020 seasons wouldn't be complete without going back to the summer when Coach Moul started thinking about all of the great runners he's coached in his seven previous years with the cross country team (three more as an assistant), and 13 years heading outdoor track and field. He thought it might be fun and interesting to compile a list of all of the Foxes' WPIAL and PIAA medalists, an idea that then morphed into a physical "Wall of Fame" in his physics classroom.
Obviously, as some of the program's finest athletes, Christian, Brooke, and Grace are among the displays that now adorn his classroom for all to see. The three earned their wall spots in cross country and indoor and outdoor track.
Coach Moul says, "Christian is the highest placing state cross country runner in school history, and Grace and Brooke were part of our 2017 first girls' state champions team. All of the runners also are WPIAL and state medalists."
Christian, a three-time state medalist, earning one each for cross country and indoor and outdoor track. He's also a four-time WPIAL medalist.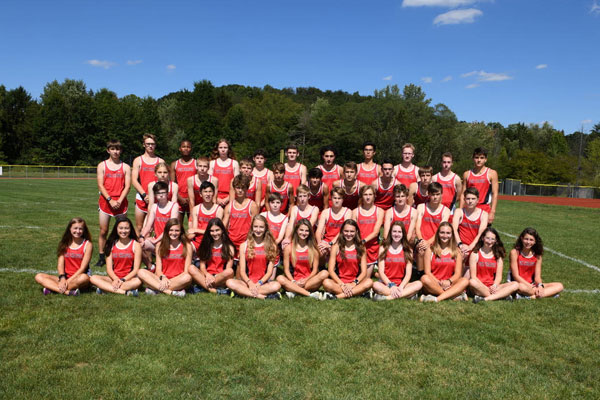 Besides being members of the team that won the state cross country team championship, Brooke and Grace are WPIAL cross country individual medalists and members of the indoor distance medley relay team that medaled at states and won gold at the Tri-State Track and Coaching Association (TSTCA) championship. In outdoor track, both girls earned WPIAL medals with the 4 x 800 relay team.
Grace, who has received plenty of good advice from two sisters who are accomplished runners, also earned two WPIAL individual medals in outdoor track in the 3,200.
Coach Moul, who has always been the number one champion of his teams, says, "Over time, records are broken and forgotten. But medals are forever, something that can never be taken away, especially those won at championship meets like WPIALs and PIAAs. My goal was to recognize these accomplishments with a display in my classroom. Mr. O'Brien (director of athletics) agreed to include the displays on the interactive athletics monitor located in the hallway outside of the gymnasiums. I was grateful for that because now the public can see it too."