It's natural to get comfortable doing things the way they've always been done, but this year's field hockey team, under the leadership of new head coach Emily Humiston and eight seniors, has embraced letting go of old traditions and expectations to forge a new path.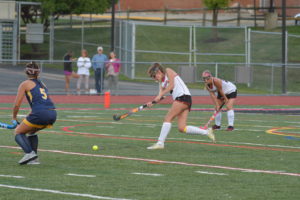 The program's history might not necessarily indicate that the old ways were bad ­– after all, since 1973 when field hockey became an interscholastic sport at Fox Chapel Area, the Lady Foxes have won 12 section and six WPIAL championships, and were the WPIAL runner-up three times. But the standard is the standard and the team felt they had let down their storied reputation when they did not advance to the WPIAL Class 3A playoffs last year.
Senior midfielder and tri-sport athlete Bryn Gerlach gives an honest assessment of the 2018 season. "We felt obligated to continue the traditional records of past seasons, and we ended up losing some key games and falling short of this goal. We were not able to adapt to new circumstances. But this year, we are out to not only work ourselves up to this goal, but also to win some key games that we lost last season."
Their new mindset is one of feeling they have nothing to lose and everything to prove, and they are working toward that end with an abundance of experience, talent, and depth. Additionally, in what Coach Humiston admits in hin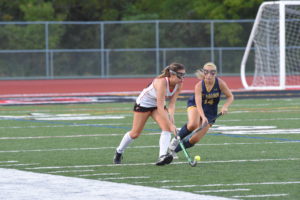 dsight might have been an unconventional move, she appointed a large group of five captains to lead their teammates. The captains represent the entire field of play and, in addition to Bryn, include fellow seniors Ellie Markel, a center forward and All-WPIAL first team pick last year; defender Meg Matthis; and All-WPIAL second team member and forward Sloan Rost. Junior midfielder Brooke Ryan also serves as a captain.
Other senior contributors are midfielder Mary Ellis, forward Caroline Redican, defender Abigail Troutman, and midfielder Elizabeth Wonderley.
"I couldn't be more pleased with the range of leadership styles this group brings to the table," says Coach Humiston. "I know five captains is a lot, but I wanted to provide every girl on this team with a leader who they would be comfortable going to, and these five girls allow that. It can be risky having this many leaders, but I have found it to be very beneficial, that there are five different perspectives, and they are still able to come up with the best solutions."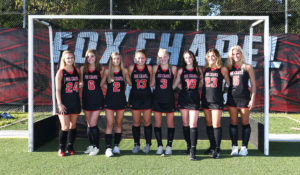 "I believe that our team, especially the older girls, recognize the duty that we have to maintain the reputation this program has," says Meg. "I know that going from winning the WPIAL championship in my freshman year, to missing the playoff cut last year, is what motivates me to perform my best every day, and I think the other girls on the team feel the same way."
Ellie says the opportunities are there for them to score in pretty much every game and cites other girls in the line-up who are having a positive impact.
She says, "Sophomore Meg DeLuca has really stepped up to the plate on defense and has so much grit and determination. Coco (Caroline Redican) is new to the district and is an incredible asset to our forward unit. She's so athletic and a great leader. Mira (Tramontina), a sophomore, has really stepped up in goal and has made some amazing saves so far."
What seems to be a common denominator is the girls' high praise for Coach Humiston.
"I love having her as a coa  ch," Meg says of the former high school and NCAA Division I player who remains the all-time leading scorer for North Allegheny. "She is very approachable and really good at pulling people aside and working on things one-on-one. And she brings a fresh, youthful energy that makes us all excited to play."
Ellie adds, "She is a great coach and I am so happy to see her in the head coach position. Her positivity and drive for success definitely pushes us to work harder."