Alex Wecht had a tough summer. He missed some preseason workouts and football practices and had to forego the season opener as he recovered from dental surgery and a nagging non-football-related injury. For Alex, a very active mover and doer, it was more than frustrating to enter his senior year and last season of football standing on the sidelines. But the next week when Alex ran onto the field in the Foxes' first conference game against North Hills, all of that was forgotten. In his best-ever career offensive performance, Alex scored the Foxes' first two touchdowns of the season, had eight tackles, and he's just getting started…
"It just felt really good to be back and get the scores," says Alex, whose presence made a huge difference in the game's outcome. "But there's just so much preparation before that can happen that goes into being successful."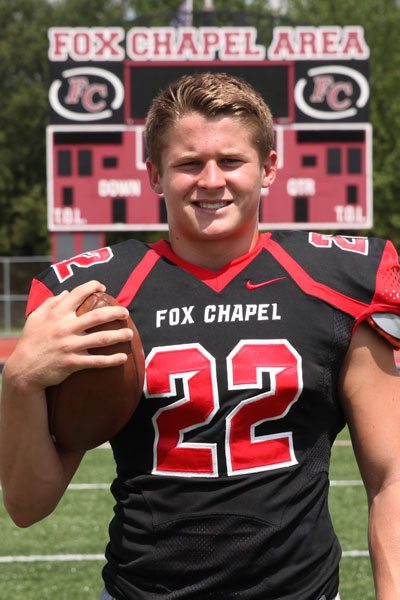 Just the week before, Alex watched his team lose to Peters Township 45-0. After watching film of the game, Alex, and fellow senior captains Sam Brown and Shane Susnak, told their teammates that things had to change. "We have no intention of ending this year as we did last season," he says of getting the team turned around.
"We really turned it up and told everyone that we need to be more serious, disciplined, focused, and goal-oriented in our practices," says Alex, a 2018 All-Conference Honorable Mention defensive back.
Their words evidently were taken to heart. The team responded with one of the quickest and most dramatic one-week turnarounds in program history. Although they lost by one touchdown to North Hills, they were very competitive and a much different team than the one that had shown up in Peters.
While Alex led the team in tackles last season with a total of 73, his unique skill set of catching and running as a wide receiver and as a wildcat quarterback have prompted Coach Tom Loughran to move him from his prior positions of safety and receiver to outside linebacker this season. The coach says altering his role will make him even more valuable and productive.
"We plan to use Alex offensively, mainly in goal and short yardage situations," says Coach Loughran. "As the season continues, that role will expand. He also provides our defense with toughness and quickness at outside linebacker. Alex helped us control North Hills' power run game and pressure on the quarterback in the passing game. As a team captain, he also provides a strong leadership by example presence, and we're going to count on him for that."
High Goals On, Off Field
Alex is as tough as they come when he's competing, and approaches every practice and game playing hard and focused. His philosophy is simple: "I play to win because I know how much more enjoyable a season is when you're winning, and I like to try and keep my team motivated and positive."
He's chosen two of the most grueling sports (in addition to playing football, Alex also wrestles) as his favorites, and Alex believes wrestling has been a good complement to football. "I've learned a lot from wrestling, like how to develop mental toughness and how to push through challenges."
The high goals Alex sets for himself, even in the offseason, to reach peak performance levels have led to success he believes might not have come otherwise. When he was in ninth grade, Alex says he was the smallest kid in the weight room, so he kept upping his lifting objectives. Now, at a solid and muscular 5'7" and 175 lbs., Alex has earned the distinction as one of the high school's strongest athletes, pound for pound.
But Alex is also the kind of individual who keeps things real. He knows he won't be playing competitive sports forever, and with a high-achieving family backing him, academics are his top priority. Whether his discipline and work ethic in the classroom have come from playing sports, or vice versa, he has proven to be equally talented in both. Alex is a member of the National Honor Society, and last year was named a 2019 High School Scholar All-American Wrestler. The honors students also was voted to the 2019 Pennsylvania All-Academic High School Wrestling Team.
But, most of all, Alex just wants to enjoy every moment of the season before he graduates from Fox Chapel Area High School.
"There is not better feeling than competing in Friday night games and playing with a lot of good friends in front of fans and the community," Alex adds.