He's been named a WPIAL Class 4A all-section player for the past three years and was voted all-WPIAL as a junior, but Zane Ingram, a senior two-year captain on the Foxes' boys' soccer team, has much bigger goals in mind this year.
While he'd personally love to play well enough to be recognized again by coaches' association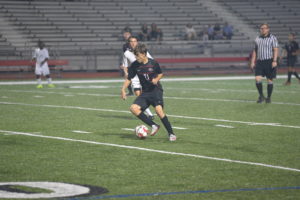 s, what he wants even more is for the team to stun the naysayers and advance to the WPIAL finals as they did in 2015.
Since he's been on the team, they've never won a section title or again advanced that far into the playoffs, and last year's move into a different and more challenging section didn't help. The team finished with an 11-7-1 record.
Zane explains, "Last year was really hard, but it was because our old section was so easy. We made the playoffs last season by the skin of our teeth but didn't go past the first round. But we only graduated a couple of seniors, and, honestly, this year there are about 22 players who could easily play varsity and step onto the field and be impactful."
As one of those key players and last year's top scorer, Zane will take over at center midfield, a position he's always wanted to play.
"I was a little too small when I was a freshman, and at the time, there was a lack of outside backs, so that's where I played," Zane explains. "Then, I played center forward, but I really look forward to seeing the field at center mid and figuring out the millions of options that there are to keep us in control of the field."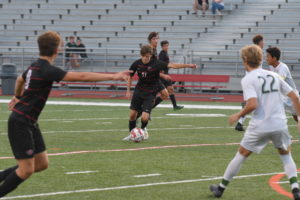 Some of those passes will be targeted at the team's striker duo of senior Tommy Tsai and junior Nate Lazzara. Zane says, "They both are really technical with the ball and very crafty, and they finish really good. We're not going to have much trouble scoring this year."
The team also has a very aggressive backline that isn't afraid to go in for 50-50s. The defense includes seniors Josh Miller and Dave Shin, juniors Clayton Humbert (keeper) and David Merriman, and sophomores JP Dockey and Ashton Schutzman. Sophomores Sean Ahia and Eli Yofan and freshman George Tabor will be the wings. Additionally, senior Charlie Smith has been playing alongside Zane in the middle.
The promise of what could be this year with hard work also prompted many of the players to bump up their fitness and endurance training over the summer, and a number of others packed on some weight and muscle. All of that will help during the season to keep the player's legs fresh when facing the likes of section powerhouses North Allegheny and Seneca Valley.
Team Chemistry Crucial
Zane admits that last year everyone wasn't always on the same page at the same time, perhaps due to the difficulty of the season and suffering from some tough losses that weren't characteristic of the program. Intense, driven, and determined, Zane says he and this year's seniors decided their final year was going to be markedly
different.
"On the first night of camp, the seniors called a team meeting because we really are trying to make the team chemistry a lot stronger," says Zane. "We just keep telling everyone, 'Listen, this team is too good to go out in the first or second round of the playoffs, and if we do, we're going to regret letting all of this talent go to waste.'"
The upperclassmen are pleased with what they have seen so far. Zane adds, "The seniors have been playing together for years and the team is talented, united, and hungry. It's not about individuals. It's about finding the best ball, best shot, and being unselfish. I could go on and on about my teammates. We have a lot of good players who could really do some damage. I think this team is going to be really special and I think we are going to surprise people."