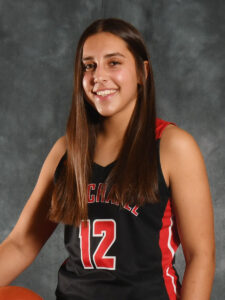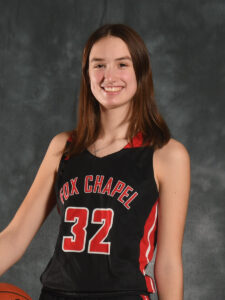 Even before they were members of the Foxes varsity basketball team, sophomore Elsie Smith and freshman Sarah Slember spent many hours going to youth clinics and watching what the high school players did on the court, how they did it, and why. Now, as the building blocks for the program's future in WPIAL Class 5A, both players are in the mix themselves. Still, they are watching the six seniors and learning more every day from their successes, as well as when things don't go as planned.
"The seniors are always pushing me to do my best," says 6' guard Elsie, who wants to be more of a scoring threat this season. "Over the offseason and during the 'pause,' the seniors organized weekly Zoom meetings and it really made me feel connected with the team."
Second-year head coach Marty Matvey says, "It's very important that Elsie and Sarah feel that they can contribute to our team because their development is critical to our success. They were very active in the offseason, and we want to see their confidence continue to rise as we go from counting on them in games to having them help us build for the future."
Elsie, the tallest player on the team, expects to be more of a scoring threat this season. Praised by her coach as "a skilled shooting forward who is equally adept at handling the ball as our guards," she is a jack of all trades who is skilled enough to play anywhere. Last season, she was the second-highest rebounder, even though she often came first off of the bench as the team's sixth player. During the offseason, Elsie spent a lot of time preparing to be on the starting lineup.
"I specifically tried to build up my strength so I could have a stronger presence on the court," Elsie says. "Watching the seniors play has taught me to be calm under pressure. For example, when we are getting pressed during a game, none of them freak out. Ellie (Schwartzman) has also taught me a lot about being a post, she teaches me new post moves and how to have a presence in the paint. They have also taught me how to include everyone on the team. Whenever we play with them in practice, they are very helpful, and never make us feel left out."
Sarah may just be one of the best freshman Coach Matvey has coached in his career. With her good court vision and ability to put her teammates in positions to score, she adds another dimension to the team's strengths.
"It's hard to teach those things in basketball," says Coach Matvey. "Sarah is just beginning to understand how to utilize her talents, along with her high basketball IQ, which will help us."
Sarah will assist with the ball-handling duties this year. She also began to prepare for her role in the offseason. She put a lot of time and discipline into her workouts. "Over the summer, I practiced and conditioned every day and tried to improve my technical skills. Now, playing with the seniors again has been great. When we are running through the drills, the seniors push us and have been really good at making sure we know how to do them. I've become a better player just listening to how they and the coaches communicate in a continuous positive manner."
She also has learned a lot about offense and defense playing with the seniors. Sarah explains in more detail: "I know how and where Ellie wants to get the ball under the hoop so she can score. And Domenica (Delaney) is very agile and knows how to go for steals. She has inspired me to go for more of them in my own game."
The Foxes might have an abbreviated season, but Coach Matvey is confident in his group.
"With the addition of Elsie and Sarah to our already talented lineup, we now have seven or eight players who could start for us," says the coach. "But that's a good problem to have."