It's quite evident to anyone who has watched Emma Wecht and Sydney Schutzman play soccer that they are very physical players who push themselves and don't shy away from challenges. Now, they have taken that moxie to another level by joining the Foxes wrestling team.
Emma, a senior, and Sydney, a freshman, have always been "out-of-the-box" thinkers, and, after repeated attempts to recruit them by former head coach Ron Frank, the two athletes finally convinced their parents to allow them to participate in the grueling sport. Their foray into the program now places them among a group of Fox Chapel Area female wrestlers that dates back to 1997.
"We've had six or seven girls in our program," says head coach Michael Frank. "Our very first female wrestler now has her sons participating in our youth and middle school programs. Jordana Matamoros (2019 alum) was the program's most recent successful female wrestler. She finished her career with a 40-32 record, earned all-county honors in her senior year, and placed sixth in the WPIAL Class 3A Section 3."
One thing every female wrestler learns quickly is that they are no different from their male counterparts. They are not considered "girls," but athletes who are expected to work every bit as hard as the guys. Emma and Sydney are meeting those standards – and more.
 From Soccer Players and Spectators to Active Grapplers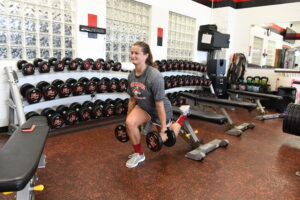 Emma's history with soccer, which she's played since she was 8, includes being honored with the Foxes rookie of the year award. She was voted by coaches to receive All-WPIAL status and has played on an elite club team for many years.
Sydney, who plays holding center midfielder for the high school, got interested in soccer when she was 3. She started as a freshman this season, and she also plays on the Foxes lacrosse team.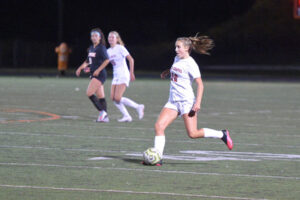 Prior to this year, neither player had any experience with wrestling, other than as a spectator. But once soccer ended, the two friends were looking for something that would challenge them and test their physical and mental competence. They found that in wrestling.
Emma became interested in wrestling after watching her older brother, Alex, a 2020 alum, become more built and stronger from playing the sport. When he started working out more, he catapulted into one of the strongest players for his size on the football team and won numerous medals and awards in both sports. The self-control and focus required for a one-on-one sport like wrestling also interested Emma, who had always played team sports.
"I decided to wrestle because it's a great sport that takes discipline, both physically and mentally," explains Emma, who will play soccer for Denison University in Ohio. "I think my strengths are that I am strong and focused. I just love sports, and I love working out.
"Alex still wrestles (at Trinity College) and he is in great shape. It takes a lot of discipline and you have to keep yourself motivated and keep working hard to be stronger all of the time. It's a different kind of training than I've ever done before. It's not easy, but I really like it."
Emma says the extra power she has gained from practices and daily weight training, has even helped her to master one of Alex's signature moves – the body slam – where she picks up an opponent and tosses him or her down on the mat.
Sydney had wanted to join the team since she was in middle school, but her parents were a little reluctant to let her wrestle. With their blessing, she finally got the chance.
"I love playing very aggressively, and I like the more uncommon sports for girls," Sydney says. "I think my strengths are that I am very competitive and have a lot of fight in me. I'm learning that I am a lot stronger than I thought, and this has helped me be more physical in other sports. It's also helped me to build more upper body strength."
She continues, "I think my best move is the double leg takedown. I like it because it just came naturally to me and is one of the few I remembered how to do and do it correctly. It has been pretty easy to learn the moves, but it's pretty difficult to remember them and know when and how to use them in a regular match."
Despite being disappointed that the beginning of the season was cut short due to the pandemic, Emma and Sydney remain enthusiastic about their newfound sport and the feelings of empowerment and self-reliance that have come with it.
Coach Mike Frank adds, "This season has been very unusual with the mandated break, but the girls returned to practice with the same enthusiasm and work ethic. The coaching staff is very excited to continue to help them develop as athletes and young adults. Since our upperclassmen competed with Jordana, having girls as part of our team has never been something that is unusual to the group. We have always talked about wrestling being the greatest sport because it fits all types of individuals, and that is true for gender as well. Our team leaders have incorporated and included the girls like they would any other individual who walks through the door."