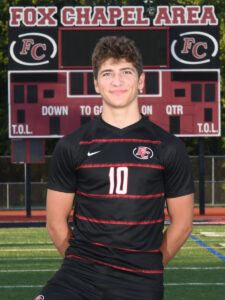 Playing soccer wasn't really Nate Lazzara's choice when he first started playing when he was 5 years old. Like many parents, Nate's had signed him up for the area's youth soccer program, but he really didn't know much about it. Once he got on the field, however, Nate loved the game right away and knew it was something he wanted to continue.
Although he also played baseball and swam competitively, and still plays recreational basketball in the winter, Nate's passion for soccer grew throughout the years. He has worked hard to get where he is today – a senior captain of the Foxes team whose explosive strength is helping the group power through games against some of the toughest teams in WPIAL Class 4A.
As of October 2, Nate scored five goals and has two assists. Three of those goals were scored in the season opener against Shaler Area High School. He also was named a runner-up Player of the Week by Pittsburgh Soccer Now.
"Nate is a hard worker who leads by example, and the team looks up to him," says Foxes coach Erik Ingram. "He is an intense attacking player who has a nose for the goal."
Reaction to Adversity Makes a Difference
One of the biggest reasons Nate says he has continued to play soccer is because he thrives on the competitive atmosphere. He explains, "That feeling of scoring a goal or making a play in the final moments of a game is so special. Watching hard work turn into success is one of the best feelings, and I can definitely find that in soccer."
Aside from that, Nate's immersion in the sport has led to other benefits that he couldn't have foreseen when he started playing as a young boy.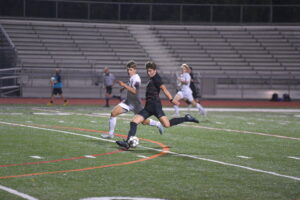 "Soccer has taught me so much about character," says Nate, whose athleticism and one-on-one and passing skills caught the attention of coaches at the University of Rochester, where he will play in fall 2021. "The way you react to adversity and challenges can define you as a player and as a person."
The team and captain were tested recently when they lost a key game to North Allegheny but, despite multiple injuries on the squad, they were able to recover to beat top-ranked Butler in the next game. According to Nate, "That win showed how much character we have as a team. If we want a chance at the WPIAL championship, we have to keep that same mindset. We have to play as a team, and every player has to know their role. With how balanced the section is this year, there isn't just one team to look at as our toughest competition; anyone can beat anyone, and that's why we have to play every game like it's our last. It's a long season, and we know that we are still in the running."
Nate's inclusive philosophy and appreciation of each player's contribution to the team have been strong factors in creating the group's special camaraderie.
"Watching my teammates have success is super exciting," says Nate, who also excels in the classroom and is a member of the National Honor Society. "The unselfish atmosphere makes me feel like we can compete with any other team out there. Everyone on this team is committed to one goal, and that's to win the WPIAL championship. To win that would be a dream come true."
According to Coach Ingram, Nate's ambition is really going to help set the tone for the rest of the season. "Nate has really stepped it up. His focus and work rate are right where they should be this year and it's important because the rest of the team follows his lead. If he stays the course this year, anything is possible for our team."