Anyone who has suffered from an ACL injury knows how painful it is and that the road back to good health is often long and tedious. Just ask senior soccer player Katie Eisengart, a comeback player who worked tirelessly to get back into shape for the 2020 season, and, once again, is an important contributor in the team's undefeated season (as of 10/1/20).
"I think I am playing well after coming off a year-long injury," Katie says. "It definitely has been a challenge, but I am putting in all my effort to focus and do well."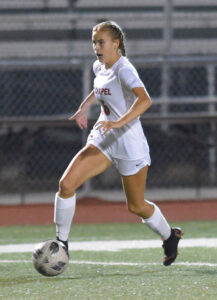 Most often Katie now plays as part of a formidable defense, but Coach Peter Torres also has occasionally switched her to forward. When he did that in a game against Hempfield, Katie not only proved that she can play multiple positions well, she scored off of a corner kick to win the game for the Foxes.
"I am currently starting at outside back, but I have been able to play up top as well," says Katie, who, prior to this season, played midfield and forward for most of her soccer years. "I get myself active in the attack, but to be productive, I also come back to defend as well. I believe I'm able to do that because I'm in good physical shape because of how hard I worked over the summer."
Coach Torres admires Katie for her determination and how she leads by example. He says, "Katie is a tremendous leader. She works hard in every drill, is eager to learn a new position, and strives for excellence during games. Her ability to tactically defend and make fantastic runs up the field have helped us to build and sustain our attacks. We are very glad to have her back after her surgery last year."
A Tough Road Back
Katie admits that going through the challenges brought on by several injuries and rehabilitation was very difficult. She says going through those injuries changed her views on life, but is proud of how she pulled herself together to regain her spot in the starting lineup.
"I've had a lot of ups and downs, but it took a lot of mental preparation to get back to soccer," Katie says. "There were days when I came out of rehab crying because I was so sore. Then came the quarantine and I was no longer able to go to physical therapy. It really changed my focus because I had to do everything by myself. It made me more determined than ever to push through and get back to the game."
To stay in shape, Katie ran one to two miles a day and worked out at home using the Teambuildr workout app that is guided by Brandon Peifer, the strength and conditioning coach at the high school. She made sure she got in her touches on the ball and practiced shooting to get stronger, but it was her teammates who helped Katie get back her self-confidence and the mental part of her game.
"My teammates are definitely my biggest supporters," Katie says. "I feel so encouraged by them and they push me to be better every day. I would say that if it wasn't for them, I wouldn't have been as determined this year because of the obstacles I had to face."
Some of Katie's most ardent supporters are her fellow defenders on the field.
"Our defensive back four have a very strong bond," says Katie, whose fellow defenders include Carlie Barnett, Lizzy McKee, and Anna Troutman. "I think we have helped to attack through the middle and to the outside forwards to create a lot of opportunities for the team."
Most recently at their October 1 game against Penn-Trafford, the fearless four helped secure another shutout, this one in overtime. It's something they are working hard to continue as the season starts to wind down in the next two weeks.
Katie will certainly be an integral part of the team's continued success as they work to get a high seed for the WPIAL Class 4A playoffs. But until then, just as Katie learned from her injury, the team will take things one step at a time, one game at a time.