Five returning starters are back to help lead the Foxes boys soccer team this season, along with a slew of other talented players vying for open top spots left behind by last year's large graduating class.
Ashton Schutzman is the most decorated player returning. A four-year starter, last year as a junior, he was named all-section and WPIAL, and also was an all-state nominee.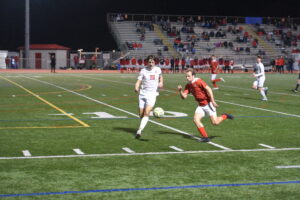 "Ashton is an all-state candidate again this year," says Coach Erik Ingram. "He is a very physical, tactical, and technical player with a great deal of leadership abilities."
Seniors JP Dockey and Sean Ahia, and juniors George Tabor and Colin Westerberg, will also help steer the team.
"JP is a defender and midfielder for us who has great physicality and distribution skills, whereas Sean, a forward, is very technical and has the ability to score from any range," says the coach.
Colin will hold down the center back position, one that suits him well due to his quickness, physical play, and his talent to anticipate attacking players very well. George is a true center forward with the ability to take on defenders and score goals.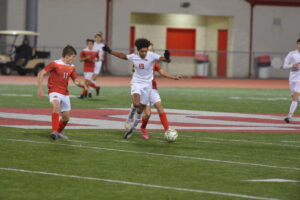 Additional members of the team include seniors Nolan Adams (defender/forward), Quentin Cook (defender), Aidan Gleason (goalkeeper), and Ollie Smith (defender/midfielder); and juniors John Paul Brach (forward), Enzo DeCecco (forward), Caleb Hahl (midfielder), Hassan Hamadi (midfielder), and Alex Tsai (defender). Sophomores are Colin Lazzara (midfielder), Saidi Issa (defender/midfielder), Sam Littwin (forward), and Connor Scanlon (goalkeeper). Kellan Bleier (midfielder), Milo Chiu (midfielder), Carson Krushansky (forward), and Pablo Linzoain (midfielder) are the team's freshmen.
"In the section that we play in, a section title is as probable as a WPIAL title, and I think we are in the race with a handful of other teams for both of those titles," Coach Ingram says. "Our strength this season is our depth and overall soccer IQ. The combination of experienced and new players, and a talented freshmen crew should make for a strong season."
Ashton, Sean, JP, and Ollie are this year's captains.