It's only their first season running cross country for the Fox Chapel Area High School varsity team, but freshmen Laura Carter and Clara Kelley might be setting the pace for the future of the program. On October 22, at the Tri-State Track and Coaches Association (TSTCA) meet, Clara finished 10th and Laura placed 11th among a field of 255 runners representing 27 schools.
The two runners had raced on the same White Oak Park course before, so they have had some dry runs before they compete at the same location for the upcoming WPIAL Class 3A championships.
Even so, Clara admits, "I didn't remember the course being that hard before! I was very nervous because of the number of teams and talented runners that were competing at the event. But I went into the race wanting to get in the top 15. I was very pleased with my place finish, but a little less so with my time. I didn't expect to place very high; I was quite shocked to find out that I got in the top 10!"
Laura adds, "I've raced in a lot of meets that were similar to this size – invites like Gateway and North Allegheny in seventh and eighth grade – plus a lot of our meets this year have been pretty big, too. But the TSTCAs were definitely more serious than any meet I've run in before."
Up Close with Clara Kelley
Clara only started racing last year, and it was because of Laura's insistence. Laura had seen Clara run before and knew she was really good and would be a great addition to the team.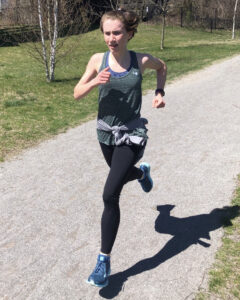 Clara attributes a lot of her quickness to being an Irish step dancer, saying, "I like to think I would not be at the level I am today if I hadn't been an Irish dancer in the years before me joining cross country. Irish dance is a very intense sport, and it demands a lot of stamina and strength to succeed. I had been dancing before I started running in eighth grade, so I was certainly conditioned in a way that helped running come more naturally. I am still an Irish dancer, and I've noticed my dancing has improved from cross country as well."
Clara continues, "I had no idea what to expect when the season began this year. I didn't really know what it entailed, nor how much success I would have, especially since I've never competed or been on a team with upperclassmen. With the paces that Coach Moul gave me and Laura, I never could have imagined I would hit them consistently. That has given me a lot of confidence and reassurance in my abilities."
Those talents are most evident toward the middle to the end of Clara's races. That's when she really comes into her own and begins to significantly pass other runners.
Clara explains, "I tend to feel better the longer I run, which is great for having successful long runs and races. That doesn't mean I'm not struggling during a race—I most definitely struggle—but I'm able to mentally push past that pain and keep going. And I also feel like the longer I run at a certain tempo, the more my body gets used to it, and I'm able to fall into a rhythm without losing power."
Nonetheless, Clara found the transition from middle school to high school racing to be tough, so she has worked hard to increase her mileage and general pace. Getting through those workouts can be difficult, but Clara credits her teammates for making the process fun and enjoyable.
"Our girls team is very close, and many of us freshmen have run together for several years," says Clara, a determined, disciplined, and tough athlete. "We are great at pushing each other and encouraging one another, and I owe a lot of my motivation and success to them. Having Laura to run with has been an incredible benefit to my training. It is reassuring to know you have a friend you can do your runs with, and whom you can count on during meets. The other freshman varsity girls – Emily Harajda, Emily Staud, and Emily Torbert – are such wonderful people and amazing runners. We all want to make the team proud."
While Clara might be fairly new to the sport, it's something she now has a passion for and plans to stick with it for quite some time.
"It's a very difficult sport, but you make incredible friends that you can share your wins and losses, your pain and struggles," says Clara, who will also run for the Foxes indoor and outdoor track teams. "I love the joy of running as far as you can and competing at beautiful locations on beautiful trails. But what I most love is experiencing all of this with such a great group of people."
Going into WPIALs, there is one thing that Clara wants to change. "I would definitely say I was way too scared for the TSTCA race," she says. "Hopefully, I eliminated that fear now, and I will be better off for WPIALs."
A Talk with Laura Carter
Until the TSTCA invitational, Laura had finished first for the girls team in every meet so far this year, so she was a little disappointed with her finish, which, by any criteria, is still a big accomplishment for someone so young.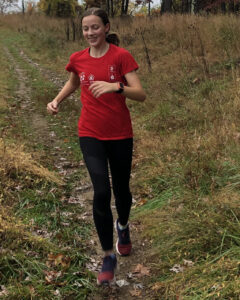 "It's definitely one of the faster courses we've run this season," says Laura. "I really like the course, minus the one hill toward the end of the loop. I always manage to get through it with minimal trouble on the first loop, but on the second loop, I end up struggling to get up it, and then with keeping my pace after I've gotten to the top."
Laura further explains, saying, "I've run this course once before, and it's mostly flat with some gradual downhills and uphills throughout and has one shorter, steeper hill about two-thirds of the way through the loop (which we run twice). Similarly, to the first time I ran it, the pace was up there from the time we started the race but, unlike the first time at the course, I didn't have to weave through a lot of girls to get into a good spot."
For Laura, getting to this point started in June when preseason training began. Laura expected the schedule to be very tough, but it didn't take her long to adjust.
"The first few workouts were pretty tough, but once I got more in tune with the training schedule, it all got a lot easier," Laura says. "I don't find the training to be draining. It's energizing, and the structure of it is nice because I know what to expect and how different paces should feel. It really makes runs more doable when I know I'm getting to see and run with some of my best friends basically every day, and I know it's preparing me for the rest of this season and all of the other seasons I'll have."
Unlike Clara, Laura's experience as a racer started with her family's interest in recreational sports. Running was among the activities they did together. When she got to Dorseyville Middle School, it was just a natural segue to begin a competitive career with the cross country and track teams. By the time she started training with the high school team, Laura already had established herself as an up-and-coming contender with a very bright future. But, similarly to Clara, Laura gives a lot of credit for her success to her teammates, especially her fellow freshmen.
"Five freshmen are currently running varsity," Laura says. "We're a pretty close-knit group, which I think helps our training and racing for sure. It's comforting to be running with such close friends. I've known most of these girls for only a little more than a year, but we've all gotten to know one another fairly well. I think it's amazing and helpful that we've been able to create such a positive and supportive environment in so little time. We find strength in each other, and it pays off."
Going into WPIALs for the first time, Laura has a plan: "I'll try to push through the hill during the second loop. There's only about a half-mile left after you get to the top. I know that I have the capacity to do that; I really just need to dig deep and push myself throughout the whole race. I also think I'll really have to take advantage of all the downhills on the course.
It will be a much harder fight, and I'll most likely need to pass a few people in the last stretch if I want to secure a spot for states."
But, no matter where Clara and Laura finish at WPIALs, it's still only the beginning of what seems to be very promising careers for both of them.
(Cross country WPIALs will be held at White Oak Park in White, Oak, PA, on October 29.)