On October 27, the Foxes field hockey team powered its way to a victory over Greater Latrobe Senior High School at the WPIAL Class 2A semifinals. The win earned the squad a spot in the championship game for the first time since 2016.
Seniors Brooke Ryan and Lily Zaltman each scored goals to give the Lady Foxes the 2-0 win, but their teammate, sophomore midfielder Anna Drum, said they never gave up their guard, even after the second goal.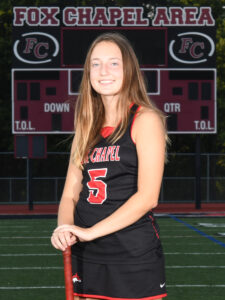 "Even though we were up by two, the whole team worked really hard to keep the ball on our sticks," Anna explains. "Every part of the team was doing something to help. The defense and Mira (Tramontina, goalkeeper) had some insane saves, the midfield connected every pass, and the forwards kept the ball in Latrobe's half of the field."
Meanwhile, Penn-Trafford sat idle that night after Upper St. Clair had to forfeit the semifinal game due to COVID concerns. Fox Chapel Area Coach Emily Humiston says she believes USC could have given the Warriors a run for their money but thinks the situation could work in the Foxes' favor.
"The unfortunate circumstances for USC meant that Penn-Trafford got what amounts to a first-round bye. They are a talented team and could well have won their semi-final game, but we definitely earned our spot in the championship," says the coach. "We don't have a title to protect; we have nothing to lose, which could give us an advantage."
What Will It Take?
Three different players were asked what they thought it would take to come away with the WPIAL crown after Monday's game, and each gave a unique perspective.
Meghan DeLuca, a junior defender, believes the key to winning the game on Monday evening will be dependent upon communication.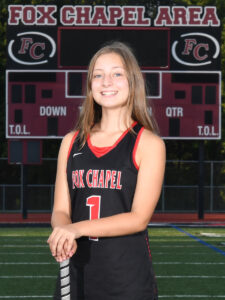 "When we are talking on the field and supporting each other, it makes all of us work harder," Meghan says. "I also think we need to play smart and make sure we are looking up for passes and reading the play to make sure we are doing the best play for the situation. If we play like we did against Latrobe, I think we have a really good chance of winning. We are a strong team and don't give up without a fight. The team just needs to be confident in themselves and our skills and trust everyone on the team will give 110%."
Hanna Harris strongly believes the team has a chance of defeating Penn-Trafford, even though they suffered losses to them during the regular season.
The senior midfielder says, "It's going to be far from an easy game, but our team's ambition has never been greater. We constantly motivate each other and bring a collective effort to every game. All of our hard work this entire season has been in preparation for this game and we are ready to give it everything that we've got. The winner is really going to come down to who wants it more, and I'm extremely confident in our team's leadership, skills, and determination to get us there."
"We know after playing them twice that they are a very good team and good at passing," Meghan says. "We need to make sure our sticks are down, and we are winning the 50/50 balls. It will be a tough fight, but as long as we play our game, we can beat them!"
Anna adds, "I think we will have to come into the game confident and with energy. If we play like we played last night (against Latrobe), we have a really good chance at winning."
It appears as though the team is peaking at exactly the right time in the season, but it's taken a lot of hard work to get there.
"Perhaps the biggest thing we've been working on, and where we've noticed a big difference from earlier in the season, is our discipline," says Coach Humiston. "We've also been perfecting the basics. Some of the inconsistencies we've had were due to not performing them well. Now, they are just playing really good field hockey. The Latrobe game was probably the best we've played. There was a lot of fight in everyone and we didn't give them any easy balls. We did everything possible to keep them out of the circle. When they are not in the circle, they can't score."
Going to the finals means so much to everyone who has been committed to getting this far, including Coach Humiston and her assistant, who also happens to be her father.
"My dad and I talk after practice is over and sometimes we are up until midnight still discussing things," says the head coach. "Where we are now just proves that it's all been worth is and it is making a difference. That's our goal as coaches – to pass on the knowledge we have to help make the girls better players and people."
The WPIAL Class 2A field hockey championship game will be held at Fox Chapel Area High School on Monday, November 2, at 7:30 p.m. Time is subject to change.