For the past couple seasons, the Foxes football team and fans enjoyed having their No. 1 fan, Benjamin (Bennie) Friedman, lead the group onto the field before every game. This season, team manager Bennie wasn't able to do that due to COVID-19 concerns, but at halftime during the team's final game on October 23, he was reunited with his "brothers" for a big surprise. At halftime, Fox Chapel Area Athletic Director Mike O'Brien presented Bennie with a fourth-year letter-winner plaque in recognition of his many contributions to the football program. The pride on Bennie's face gave new meaning to what it means to be a Fox Chapel Area athlete.
Unmatched Enthusiasm
It would be hard to find many people who get as excited about Friday night football games as Bennie. His enthusiasm is contagious, and he has used his positivity to help lift the players, even during the toughest challenges. Without even trying, Bennie has been a role model and example of what can be accomplished, despite what might seem to be overwhelming odds.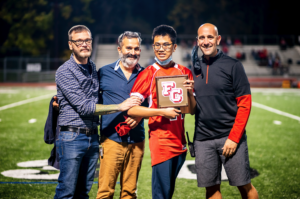 "It's been a great partnership for all of us, but I really believe that we have benefited and learned more from Bennie than he has from us," says Mr. O'Brien. "His attitude, demeanor, and optimism are to be admired, and we all can learn more than a few lessons from him. He has changed our program for the better. Our team members love him, and he loves them."
Stacie Dojonovic, Ed.D., FCAHS teacher, says Bennie approaches all of his tasks and activities with the same zest and leadership qualities.
"Bennie is such an enthusiastic kid and you can see it, whether he is cheering on the football team, participating on the Unified Bocce and Unified Track and Field teams, or in the classroom, where he is a serious student who wants to excel and attend a four-year college," says Dr. Dojonovic, who also serves as a coach for the Unified Bocce and Track and Field teams. "He was not able to compete as a varsity football athlete – something he has always wanted to do – but he carved out a role for himself to still be involved in football. He is a true leader because he recognizes and accepts responsibility for himself and his Fox Chapel Area classmates."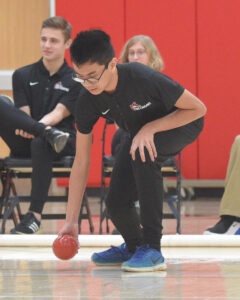 As co-captain of the Unified Bocce team and a member of the Unified Track and Field team, Bennie has had fantastic experiences as a Fox Chapel Area varsity athlete and has been convincing when trying to recruit some of his friends on the team and his school peers to join him. Two years ago (there was no track last season due to the virus), the track and field team advanced to states and placed third. Bennie also serves as an officer on the Best Buddies board of directors and went to Dr. Dojonovic last year asking if he could organize a flag football team. He was granted his request because everyone at the school knows when Bennie puts his mind to something, he will not rest until the job is done.
Outside of school, Bennie is equally as assertive. He is a member of Friendship Circle, a group that serves to create more inclusiveness in the community, and is the co-president of its Teen Leadership Board.
"The experiences Benjamin has had have meant a lot to our family," say Bennie's fathers, Mark Friedman and Ray Yeo. "Mike O'Brien and JP (John Panos) could not be more supportive of Benjamin. They, along with Stacie, have created opportunities for him and have gone above and beyond to do it."