When former boys soccer team go-to defender Josh Miller graduated in 2020, Ashton Schutzman knew he was going to be called upon to take over a daunting assignment. His predecessor would be proud of how deftly he has handled his job all season as a solid anchor in the backfield. Thanks in part to his consistency and leadership, the Foxes have advanced to the WPIAL Class 4A playoffs all 15 years of Erik Ingram's tenure as head coach.
"Those were definitely big shoes to fill, but last year there were games when Josh was out, and I had to step up, so I felt ready and prepared," says Ashton. "Playing beside him helped me to develop and got me to the level I where needed to be this year."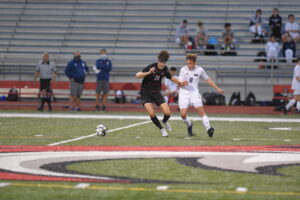 Not only has Ashton proved himself to be technically amazing as a center back; he is also one of a small group of underclassmen who have been voted as captains.
"That's when It hit me that I'm not an underclassman anymore and am going to have to step up," Ashton says of his position. "The other guys on the team were looking to me to be a leader.
Coach Ingram has been impressed with Ashton since he was a varsity starter as a freshman. He says, "He's just super fit with a high soccer IQ, and the way he directs traffic is something special. Ashton makes what he does it look easy."
To Ashton, the biggest thing to successfully leading the defense calls for a lot more than technical expertise.
"The biggest thing to lead a defense is to be vocal and know your players strengths and weaknesses," says Ashton, a three-year starter for the team who was named team's rookie of the year as a freshman. "You're not just making decisions for yourself; you are telling other defenders what to do and making decisions for them."
His role will be even more critical in the playoffs. He says, "I think we need to just keep playing like we have been and staying focused. We've dropped some very winnable games due to a lack of focus defensively."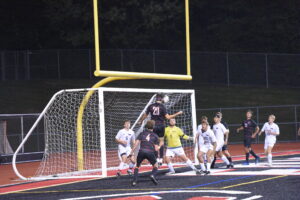 One of those tough losses was an away game against North Allegheny. The Foxes played a near perfect game to earn a revenge victory on their home field a few weeks later. It was a performance that Ashton will remember for quite a while.
"For me, the highlight of the season was beating NA and securing home games for the playoffs," says Ashton, whose leadership skills extend well beyond the field. He is an active member of Best Buddies and has served as an officer for three years. Ashton also plays for the Foxes lacrosse team and participates in the school's Unified Sport bocce and track and field teams.
Coach Ingram sums up Ashton's value to the team succinctly. He says, "He's an absolute superstar for us in the back."
Ashton and the Foxes will make their first WPIAL post-season appearance at noon, Saturday, October 31, at Fox Chapel Area High School Burk Stadium, versus the winner of the Butler/ Upper St. Clair first-round game.