The Foxes field hockey team has advanced to the WPIAL Class 2A playoffs for the first time since 2017, and it's an exciting opportunity for head coach Emily Humiston and her assistant David Humiston, who just happens to be her father. When taking over the squad last year, the head coach started to cultivate a more positive vibe, and then when her father joined her this year, they worked together to achieve that goal and more.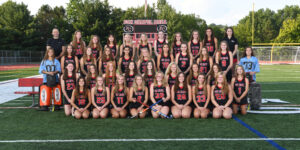 "My dad and I focus on making sure the girls always know that we're proud of them and that we see and appreciate their efforts out on the field," says Coach Emily Humiston. "One of the most important things I've always tried to get across to them is that success shows itself in many different forms, but all roles, big or small, are vital to achieving any forms of success. Yes, winning a game is a success, but so is playing the best we've ever played as a cohesive unit and still not pulling out the win. Regardless of what the scoreboard says, we always try to make sure we touch on our successes after a game, and I think that's really essential to keeping them committed to working hard for themselves and each other." 
A Good Season
The Lady Foxes finished the regular season with an overall record of 6-5-1, and the team went 6-3-1 in section play. Senior captain Lily Zaltman, who led the team in scoring with 17 goals, will be counted on to continue her success, along with her fellow captains Brooke Ryan and Mira Tramontina.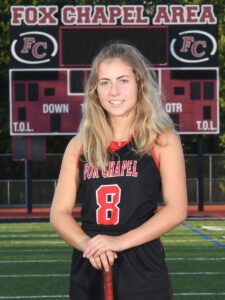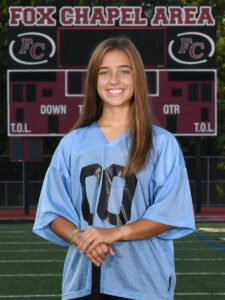 But, overall, the head coach says the biggest strengths of the team this season weren't technical, but rather intangible characteristics that have provided the extra drive for the team to achieve its goals.
"This team has tremendous heart and spirit," says Coach Emily Humiston. "Their passion has formed such a strong emotional bond between the players, and that helps them come together on the field. We have some players whose hard work has resulted in their continued improvement, and they have played some of their best games this season. As a group, I believe we have as much or more talent as anyone in our section; we just need to be more consistent if we want to have success in the playoffs."
One of the biggest changes the head coach has noticed is the players' attitudes. She says, "There isn't a single player on this team that doesn't try to better herself every time she shows up for a game or a practice. I wish my dad and I could take credit for that, but it really comes down to the fact that they're good people and they care. We hope that spirit continues to grow and becomes a key aspect of the culture of this program."
The Foxes will play in the first round of WPIALs on Tuesday, October 27 at Burk Stadium. The game begins at 6:30 p.m.