Last year, the members of the Foxes softball team caught some of their WPIAL Class 5A opponents off guard with their grit and patience. In doing so, they pulled off some big upsets that eventually helped lead them to Fox Chapel Area's historic first-time appearance in the PIAA playoffs. It was a splendid season for the Foxes, certainly, after being unranked all season and getting the 14th seed to qualify for the WPIAL playoffs.
When the team's deep run in the postseason finally concluded, six batters had hit over .300, three players hit home runs, and six players had double-digit RBIs. It's a feat the players and coaches believe is achievable again due to one of the strongest lineups the program has enjoyed in many years. All players, except for two graduating seniors, have returned, and although the alums were big contributors, this current team has the potential to be a very formidable opponent. Seven seniors are returning players, and the entire infield is intact. The Foxes' starting pitcher and catcher also are back. Pitcher Mackenzie Borkovich, a Slippery Rock recruit, struck out 205 players during the 2021 regular season, and Carlow University-bound catcher Amelia Herzer adds vast experience and talent to the mix.
If their first test in the regular season is any indication of what's ahead, people are in for an exciting year.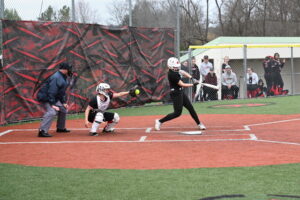 Off to a Quick Start
The Foxes are unranked again this year and know they will have to prove their mettle once again. They did just that in the first game of the regular season versus fourth-ranked Class 5A foe Plum with a lopsided 20-7 win. The attack started rolling in the first inning, and the Foxes never relented. Hunter Taylor and Mackenzie both hit three-run homers to start off the game and, in the end, seven Foxes scored twice. Adina Rosen crossed home plate three times, and Mackenzie had 14 strikeouts.
In addition to Hunter, Mackenzie, and Adina, other players who contributed to the win were Alina Stiger, Brynn Palmer, Riley Culleiton, Mia Dunleavy, and Kyra Gdovichin. In all, the team had 24 hits in the first game.
"The best part about that game was that they played as a team," says third-year head coach Chris Olbrich. "We took the pitches they gave us and made the most of them."
The team quickly put on another show of dominance when they defeated Peters Township, 5-0, in their next game. Mackenzie had 17 strikeouts, and the team had 11 hits. Hunter and Brynn both hit doubles and brought in two runs each, and Mia's single in the fifth inning brought home another run.
First baseman Riley comments about being underestimated again this year. "I think one of the main reasons we are unranked is because no one expects Fox Chapel Area softball to perform the way we did last season again. Our performance as a team came as a surprise to the other teams in our section, and we loved it. It was a good feeling to exceed expectations and pull out clutch wins.
"We have so many returning players who have worked really hard, and I'm definitely excited to see how we all mesh together on the field again. All of us returning starters are ready to continue the path we paved for ourselves last season and keep playing to win and make a name for the program."
"Riley has a great ability to relate to every single player on the team and does so in a great manner," adds her coach. "She's the glue that holds us together."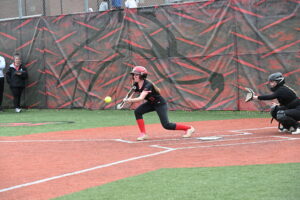 Strong Returning Force
According to coach Olbrich, this year's infield is probably the strongest that the team has ever had and is coming off a season with very few errors.
Brynn plays third base and batted more than .300 last season. She also was one of the players who had double-digit RBIs. The versatile infielder is eager to pick up where she left off last season.
"My starting position is third, but you can put me anywhere, and I'll be comfortable," says Brynn. "I feel pretty balanced with both my offensive and defensive skills."
Her coach says, "Brynn has a heck of an arm. The Plum game was a great example of how valuable she is to us. Plum decided to bunt a lot, and Brynn made every play because she's just so good in holding down her corner."
Of his catcher, he adds, "Amelia is the smartest player I know, more so than even some adults. She has had nice growth over the past few years, especially as a leader. I see her in the field coaching some of the younger girls, and she does it in a very positive manner.
"Macayla Weiner also returns as an infielder. She holds down the right side of the field and is always in the right place to make the needed play."
The only freshman who has earned a varsity starting position so far is Adina. The centerfielder is described by her coach as "a good solid player who is fast as lightning," and a "hard worker who tracks the ball well."
"The battle now is really for the starting outfield positions," says coach Olbrich. "We have five as of now – Adina, Alina, Mia, Kyra, and Caitie Troutman.
"We're looking forward to another exciting season that will better last year's run," says coach Olbrich. "We now have learned how to compete in high-pressure games against very good opponents, and they have put in the hard work and practice that's necessary to be a contender. We believe those efforts will help us to continue the success of last season."
The coach concludes with a chuckle, "I hope everyone will overlook us again! Like last season, we will prove our place on the field, where it matters."