Now entering their senior years, two of the Foxes' top athletes are very glad they have already checked off one of the most anxiety-producing tasks – taking the SAT. Russell Fenton, a member of the section champions Foxes basketball team, and Ashton Schutzman, a tri-sport athlete, aced their standardized college entrance exams on their first attempts. Russell was perfect on both the math and reading sections, whereas Ashton scored 100 percent in math and was nearly perfect in reading.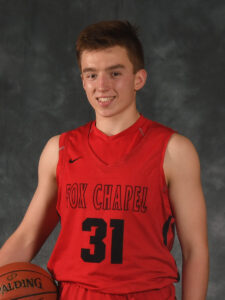 Russell found there was a silver lining when studying remotely last year. He explains, "In my downtime during the pandemic, I started preparing for the SATs by taking a lot of practice tests and just studying to prepare for them the best I could. Afterward, it takes a while for you to get your test results, so during that time, I kept going over the questions in my mind. I thought I did pretty well, but it never crossed my mind that (getting a perfect score) was a possibility. It certainly was an exciting moment to see the results. They were the culmination of a lot of hard work."
Fox Chapel Area High School head basketball coach Zach Skrinjar says Russell approaches basketball just as he does his studies.
"Russ has always been a student of the game," says Coach Skrinjar. "He spends a good amount of time watching film to prepare for our upcoming opponents, and, as coaches, we have tapped him for information and his thoughts on teams we will be playing. He leads by example and has been an extremely unselfish player. Many times, we have asked him to play out of position on offense and defense for the overall success of our team. Russ is willing to give up personal stats for the betterment of the team, and I can't think of a better example of leadership exhibited by a high school player."
Russell is an instructor at the high school's youth basketball camp held during the summer and also is a student ambassador at the high school. He plans to major in civil engineering in college.
Ashton, one of the Foxes' most outstanding soccer players, was a captain as a junior. Last spring, he decided to add lacrosse to his already busy schedule. Although he is a natural athlete, Ashton believes athletics are more of a challenge for him than his studies in the classroom.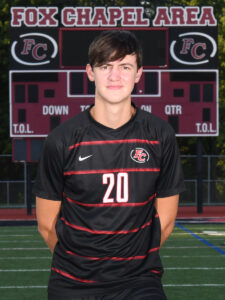 "I'd say academics are easier for me than sports," says Ashton, an all-section and all-WPIAL soccer player last season who has found a way to juggle it all. "I try to balance everything by getting in as much homework and studying as possible during QRT and any free time I have during school."
As with Russell, Ashton's dedication and commitment to excellence transfer well to the field. His soccer coach, Erik Ingram, has a lot of good things to say about his player.
"Ashton is a fantastic player to coach, and he makes an impact on and off of the field," says Coach Ingram, who believes his captain is a future NCAA Division I player. "On the field, he is one of the top players in the WPIAL and will lead this year's team to another successful season. His abilities and leadership will be a large part of how far our team goes. Off the field, he is a friend, mentor, and instructor to many youth soccer players throughout the community, and is active in the Best Buddies program, as well as Unified Sports at Fox Chapel Area."
Both Russell and Ashton have the luxury of breezing through their senior years now that they have the SATs out of the way, but neither one has any plans of slacking off.
"I'm not slowing down at all," says Ashton, who wants to major in computer science next year. "I can't just blow off stuff; colleges are still looking at grades during your senior year."