Eli Yofan had never played the links at Nemacolin Country Club before the 2021 WPIAL individual golf finals, and when he did, he found them to be very challenging. But if there is anything you can say about the multitalented athlete who excels at every sport he plays, it's that he is a quick study. So, knowing what he needed to do, the senior got the job done and finished the tournament tied as the WPIAL Class AAA individual runner-up. It's something that he says caught him by surprise.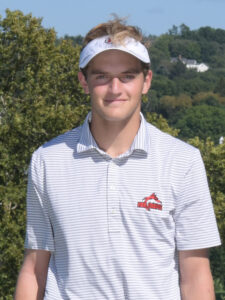 "I felt pretty good going in if I just played my game," says Eli. "My score ended up just about where I thought it would be, but I never imagined I'd be the runner-up. I was shocked!"
Eli also would have made the trip to states last season, but due to COVID-19, the field was narrowed to the top 10, and he placed 14th.
He explains the disappointment. "Last year was a really tough finish because, normally, I would have qualified. This year, I just had more experience and tried to be 'comfortable being uncomfortable,' something Coach (Bryan) Deal tells us all the time."
Now, with the deal sealed, Eli and the other top 13 candidates will head to the PIAA individual Class AAA Championship on October 19 at Heritage Hills Golf Resort in York.
Big Results Without Much Training
Don't hold it against him too much – because Eli is about as humble as they come and the perfect team player – but he is the first to admit he really doesn't golf all that much, other than in his high school matches. He's never used a private instructor to help him improve his game, doesn't enter tournaments, and, in the offseason, only plays maybe once a week for fun. He is just gifted beyond comprehension, and with all the success he's achieved playing this sport, as well as basketball, soccer, and volleyball, he has become one of the most prolific all-around athletes to ever come out of Fox Chapel Area High School.
"I think I just got kind of lucky," Eli says about his abilities in the sports he currently plays or did in the past. (Eli was selected to the Pittsburgh Post-Gazette Fabulous 5 in basketball and was an all-state nominee.) He doesn't accept anything but excellence from himself, whether it's academics or the sport he is playing at the time. But even gifted athletes have times when they are not performing up to their own standards.
"I don't like losing in any way, especially in sports," Eli says. "Whenever I've struggled, I just practice a lot. In basketball, if I'm not shooting well, I'll go out and take 500 shots or more until I feel more comfortable and confident."
At the WPIAL individual golf finals, Eli did have a time down the stretch when he said he "got into my head" too much.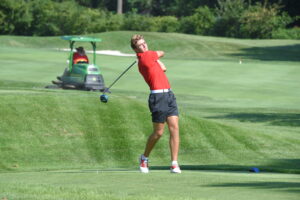 "Nemacolin is a tough and tricky course, and the greens are very fast," says Eli. "You needed to be below the hole on most of the hills or you weren't going to do well. I knew that I was not going to qualify if I didn't play smart, one shot at a time. I've been in a lot of high-pressure situations before though, so I knew what to do and I ended up having a solid day."
"Eli is a grinder," says Coach Deal. "He realizes as an athlete that the next shot is the most important one. Golf is an up-and-down game. Eli handles those ups and downs better than most. He is mentally tough, which allows him to overcome a bad shot or a bad hole. Many kids cash it in when the going gets tough."
Eli will probably face similar pressures at the state meet at Heritage Hills, another course unknown to him. Players get two practice rounds prior to the event, so that will help ease him into the flow of the greens. A smart, intuitive player, Eli should be able to get a feel for how he wants to strategize his game.
He will also get much support from his coach, who goes above and beyond to prepare his players, especially for big, important events such as this one. In the past, Coach Deal and his assistants have walked the greens themselves and taken detailed notes to help guide Foxes' players about potentially tough spots on courses.
Coach Deal summarizes what he has observed in his player over the past two years. He says, "Eli just loves to compete. He thrives under pressure. All of the great athletes welcome the big moments that define winning and losing. The bottom line is that he performs at a high level when the stakes are the greatest. That's the sign of a winner. We're sure glad he is wearing black and red."