For the 16th consecutive time in as many years, Erik Ingram will lead his boys soccer team to the WPIAL playoffs, but as much of an accomplishment as that might be, perhaps it's not his biggest in 2021 – the other is much more personal. At the October 7 game against Shaler Area, Coach Ingram earned his 200th career win and secured a place of his own in the history of Fox Chapel Area athletics.
During his tenure with the district, Coach Ingram led two teams to become WPIAL championship runner-ups, three teams to the PIAA qualifiers, and five to section championships. Many of his players also have earned individual awards. Six players have been named all-state, 34 have been all-WPIAL, and, since 2006, more than 60 of his athletes have earned all-section status. He also has been very involved in the development of players at Dorseyville Middle School and has coached youths there, too.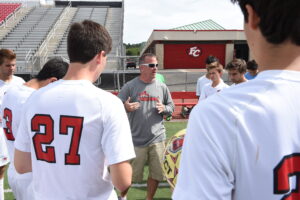 His sweeping efforts and success led to his peers voting him coach of the year nine times. Additionally, he was honored twice with the FIFA Fair Play Award for exemplary behavior that promotes the spirit of fair play and compassion. A leader in the Olympic Development Program (ODP), Coach Ingram has served as head coach for the state program and was part of the regional coaching staff.
While the coach knew his Fox Chapel Area milestone was coming up, still, it was satisfying when it occurred.
"It felt great to get to 200," says Coach Ingram, who was an all-section and all-WPIAL player at Plum High School. "I knew it was only a matter of time that I'd surpass 200 wins with the great group of players I've got."
"Over the course of the last 16 years at Fox Chapel Area High School, Coach Ingram has provided great stability and an expectation of hard work and dedication as the head coach of our boys soccer program," says Fox Chapel Area Athletic Director Mike O'Brien. "Most importantly, he has helped to teach our young men the importance of being accountable to themselves and others in order to achieve a common goal."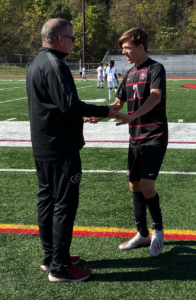 "Coaching at Fox Chapel Area has allowed me to get to know and work with some amazing people through the years, including my sons (former players), my father (who served as an assistant), and some very close friends," says Coach Ingram. "It is very rewarding every year playing in the highest classification in the WPIAL and the hardest section in that classification, and still qualifying for playoffs every year. A lot of time on and off the field goes into preparing for each season, but it's worth it when the boys work hard and achieve success year after year. I think my favorite part of it all is seeing how much growth the boys go through from their freshman to senior years. When a player finishes and has become more independent, more responsible, and more socially conscious, it's rewarding to know that I had a small part in that growth."
Kota Furuhata, who played for the Foxes from 2012 to 2015, was one of those players, and he recalls his own experiences.
"I remember when Coach got his 100th win back when my older brother played for him," Koto says. "He had a tremendous impact on me the four years I played for him. He taught me how discipline plus hard work lead to incremental growth. Every day, he pushed us to work on our craft and train our bodies, while having fun during the process. Coach Ingram taught me what it meant to be a leader – someone who puts in that extra 10% when no one is watching. I'm happy he is getting the recognition he deserves."
Impressive Credentials
When Coach Ingram signed on with the Foxes' program, he had a tough job ahead to maintain a 50-year tradition of excellence. But he came with an impressive resume and was prepared for the challenge.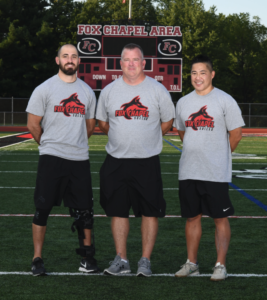 After graduating from the University of Pittsburgh, he went on to play for the Grand Rapids Explosion, a professional team in Michigan. In 1996, he was drawn back to the area when the University of Pittsburgh offered him a position as an assistant coach for the women's soccer program. After six years in that role, he was promoted to head coach in 2003 and took the team to the Big East tournament. Professionally, he coached the Steel City Sparks of the Women's Soccer League and internationally for West Ham United FC. Although his current focus is training high school players and youth, Coach Ingram also has mentored a number of players who have gone on to play at the collegiate, professional, and international levels.
One of those players, former Foxes captain Nate Lazzara, is now a freshman on the University of Rochester men's soccer team. The 2021 graduate remembers Coach Ingram as someone who added a spark to his career.
The former striker says, "He was always very understanding in terms of what people were capable of. I can even think back to some middle school games where he would sometimes take me aside and tell me to get the ball at my feet. He knew what kind of player I was, and he knew what needed to happen for me to be productive. Sometimes it was just a look from the sideline or a quick talk during halftime, but it would always light a spark in the game for me."
Former varsity wing Andrew Gottlieb (a 2007 graduate), a member of Coach Ingram's very first team at Fox Chapel Area, remembers him as someone who stressed the importance of working toward a common goal. He says, "Coach Ingram had a big job to continue to uphold the standards set for Fox Chapel Area soccer, and he did that. We were section champs that year and advanced to the WPIAL semifinals. It was a group of players with multiple different personalities, and he was able to get everyone on the same page and working toward one common team goal, which wasn't always easy."
Summing up what Coach Ingram has meant to his players and the program, current senior midfielder, captain, and all-state nominee Ashton Schutzman adds, "Coach Ingram always expects a lot of his players, yet if someone wants to get help, he will help in any way to make that player better, even if means staying after practice or coming to the field early in the morning. He has helped me a great deal and he really wants all of his players to succeed."