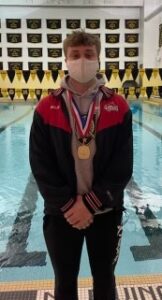 After dancing around the gold medal for the past two years, David Manelis finally won his final high school diving competition in grand style by winning the PIAA Class 3A boys diving championship. With his win, David became the first diver in school history, male or female, to win the state title. His 2021 score of 535.30 was more than 60 points higher than last year's total when he won the bronze medal. The year before, he finished second in the state.
David got his invite to this year's championship by way of winning the WPIAL title for the second consecutive year. In all, David has gone to the PIAA meet all four years of his high school career.
But the win didn't come easily. Even though David's qualifying score was some 100 points better than Conor Gesing's from Abington High School, the Foxes diver showed some vulnerability early on. After the five preliminary dives, David trailed Conor and was in second place. At one point, he had to overcome a 17-point deficit. However, as champions are prone to do, David pulled ahead in the first dive of the semifinals, his sixth dive of the day, and he never looked in the rearview mirror again.
"I know that I took the lead somewhere in the semifinals, but I don't remember exactly when," says David, who assesses himself as performing a nine out of a scale of 10. "I wasn't really paying attention to that (my placement); I just finally knew for sure that I won with my dives in the finals."
One of those dives, a reverse 1.5  with a 1.5 twist, earned him a meet-high score of 63 points.
"I just learned that dive about a week and a half ago, so I was kind of surprised," says David, a perfectionist. "I think I did it better in warmups though."
Earning such a high reward from the judges was difficult. David explains, "The judges were tougher than they were at WPIALs, but they were tough on everyone. I'm just glad I ended my high school career on a high note. I think it's amazing to secure a victory like that and be the first Fox Chapel Area diver to win states."
David is headed to West Point in the fall but admits it's been a busy year and he hasn't given much thought to his future. But, like many seniors, he is ready to move forward.
"I am looking forward to working with the coach at West Point because I would definitely say I have not peaked, and there is a lot of room for improvement," he says about the next four years ahead of him. "For now, I'm just enjoying the moment. I hope I have inspired some of our younger divers along the way."