It's been a long time since a Foxes gymnast has medaled at the WPIAL championships, but sophomore Zoe Fitzsimmons finally ended the drought with her bronze-medal performance on the balance beam. She also qualified on the vault, and her floor exercise earned her a top-10 finish. This was Zoe's second trip to the WPIAL Class A championships. Last year, as a freshman, she qualified in the same three events.
"My beam routine was my best all year," says Zoe. "I had been working all year on a new dismount with more twist to it and a back handspring, and I stuck them both."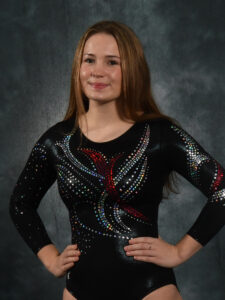 Zoe admits part of the reason she favors the beam is due to the fear and adrenalin rush that come along with performing on the 4" leather-covered slat. There was a time, however, that the fear factor almost got in the way of her competing on it again.
"In sixth grade, I was working on a back handspring and I broke my ankle," Zoe recalls. "After not practicing for a while, I was pretty rusty and lost a lot of strength. So, there was some fear about getting back on it, but I trusted myself and my coaches, and seeing other girls do hard tricks makes me want to push myself to do them too. My competitiveness is greater than my fear."
Discovering some of those harder tricks and wanting to emulate them came from watching her gymnastics idol, Olympic gymnast Aly Raisman. Aly's role in the 2012 and 2016 games left a big impact on the budding athlete. "She not only helped the team win gold both years, but she's also a really good role model."
In fact, these days, fear doesn't seem to hold Zoe back from much. She is a tri-sport athlete who competes in soccer in the fall, gymnastics during the winter season, and lacrosse in the spring. She also was on the diving team as a freshman.
"I think I'm best in gymnastics, but I probably like lacrosse better," says Zoe, a self-described social person who enjoys meeting as many classmates as possible. "Lacrosse and soccer have bigger teams, so there are more opportunities to develop friendships. Our gymnastics team was really small this year, so I tried to help out by recruiting two more freshmen."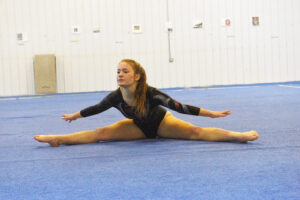 Zoe says lacrosse has been the easiest sport for her to pick up, probably because she has had a lot of experience playing soccer. She is a midfielder on both teams. "I'm a good runner and I think that helps with both soccer and lacrosse, but I've learned I'm probably better with a stick than a ball."
Zoe's talents also extend beyond sports. She has played the violin since fourth grade and is a member of the high school orchestra. "It's a completely different atmosphere than sports, which are so competitive. It's also has been a good opportunity for me to meet a different group of people."
Lest people get the wrong idea about her reasons for playing sports, Zoe says, "I'm definitely a competitor and want to improve my skills, but I do put a lot of value on the social part of it because I think it's good for your health."
"I really enjoy coaching Zoe," says Coach Nadine DeLeo. "She is a hard worker and is open to trying to new skills. Zoe also is very receptive to feedback, has a positive attitude, and is supportive of her teammates. She is a very talented and gymnast who is determined to push herself."