Davey Fuhrer might be the youngest player on the Foxes' varsity golf team, but he has had a special gift for the game pretty much since he could hold a club. His talent was on clear display at the recent September 20 WPIAL Class 3A Section 8 individual championships. Possessing skills and techniques that belie his age, the sophomore won the WPIAL Class 3A Section 8 individual championship and joined an elite club of Foxes golfers who have achieved that title so early in their careers.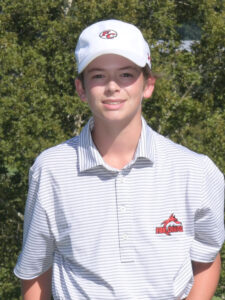 When recalling his performance that day on the course at Willowbrook   Country Club, he says, "I was happy with how I played, but I left a few shots out there."
Davey may think it wasn't his finest day, but he is confident in his ability to win, as is his coach, Bryan Deal.
"As a sophomore, Davey's performance was impressive," says Coach Deal. "It is great to have him back in our lineup, as we missed him basically the entire season last year due to injury. We are a different team with him."
According to his coach, Davey is the single most consistent player on a team that is loaded with talent and experience.
"We all know we can count on him to play well," says Coach Deal. "He's in a tough spot being the only underclassmen in our top six, but he plays the game in an extremely calculated manner and with a strategy that allows him to keep everything in front of him. He hits both fairways and greens well, which allows his success."
Coach Deal continues, "Besides Davey, I'm very proud of our entire group. They found a way to get all six varsity players through to the WPIAL individual semifinals. It wasn't our best day overall, but it was a solid performance. The goal is to advance to the next level, both as individual players and as a team. I'm looking forward to seeing what we can do."
As for Davey, he looks forward to the challenge of advancing deeper into the playoffs and is driving himself knowing that however much work he puts into his game will pay off. "I know if I play my game, I'll have a good chance to win future tournaments."