When Colin Westerberg started playing soccer more than 13 years ago, he knew from the very beginning that it was something he would enjoy for a long time. That boyhood sentiment continues today in his role as a tough defender on the Foxes boys varsity soccer team.
In the past, Colin has played all over the field – everywhere from wing/forward to midfielder – but he's very content with where he is now.
"Playing defense is one of the best feelings in the world when you shut down an attacker and get a goal-line block," he says. "For me, blocking a shot or making a great defensive play is what always gets me excited about the game. I also love the competitive nature of just wanting to win game after game."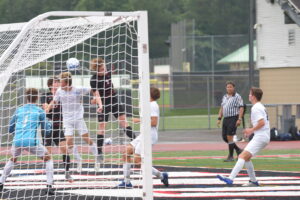 Coach Erik Ingram is equally as enthusiastic about the junior's abilities.
"Colin was a solid defender for us last year and has developed a lot following the lead of (senior captain) Ashton Schutzman. This year, he has really stepped up his game, allowing us to move Ashton to other areas of the field. He is a great one vs. one defender and ball winner but also has stepped up his communication and organization on the field. Colin is an athlete who expects a lot of himself and holds his teammates to a high standard, too. But he is also a very positive force and is having a stellar season in his junior year."
Colin acknowledges that he has high standards and can be hard on himself, something he is slowly working to overcome. "I deal with this in different ways," he says. "One of them is if I make a mistake, it only makes me want to do better."
Those who have seen Colin play have been treated to an exciting display of his many talents. One of his more distinctive traits is his speed, but he also adds, "I think I read the game very well, and I'm also a very physical and mentally strong player. I will not back down from any challenge."
"Colin keeps the engine running vocally from the back and makes sure that the other backs and midfielders are well-positioned, and taking care of their defensive responsibilities," says his coach. "He has been a large part of our success, having also made goal-line saves in big wins against Butler and North Allegheny."
"My goals don't end here," according to Colin, who says one of his best accomplishments occurred when he was a freshman and was named the team's rookie of the year. "I just want to keep getting better and better. Ashton has taught me so much about communication and reading the game better. I can't stress enough how much he has helped me. And (2021 graduate) Jack Nury showed me all kinds of skills and has helped push me to that next level."
Coach Ingram adds a rare statement: "In my 16 years with the team, we have had a long line of quality center backs, and Colin is right up there with that group."